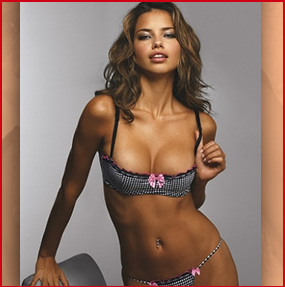 We've been HUSTLETWEETING this evening about the awesome ADRIANA LIMA VOGUE ESPANA "Sex Bomb" photo spread, and the feedback has been nothing short of unanimous: More Adriana, NOW! To which we here at the Hustle can only say, "We Thought You'd Never Ask!"
CLICK ON THE PHOTOS BELOW TO SEE THE ENTIRE UNCENSORED
PHOTO GALLERY FEATURING THE ABSOLUTE BEST OF ADRIANA LIMA!
---
THE HEYMAN HUSTLE IS PROUD AND PLEASED TO PRESENT
THE HOLLYWOOD CHARLIE MEDIA WATCH, FEATURING THE
FIFTEEN BEST STORIES OF THE DAY FROM THE WORLD WIDE
WEB. ALL HERE, CONVENIENTLY CHOSEN FOR YOUR REVIEW
BY OUR HIGHLY REGARDED STAFF OF TRAINED MONKEYS.
YOUR PART, WE DARE SAY, IS EASY. JUST PICK A PIC AND CLICK!