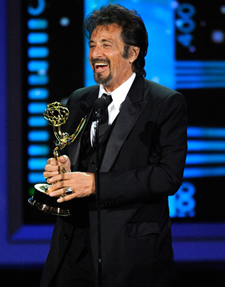 Michael Corleone. Frank Serpico. Sonny Wortzik. Tony Montana. Carlito Brigante. Jack Kevorkian?
Al Pacino won the Emmy Award for Best Lead Actor in a Miniseries/Movie for his portrayal of Dr. Jack Kevorkian in HBO's "You Don't Knock Jack" on Sunday night, a move that was anticipated by the critics due to Pacino's portrayal of the controversial Michigan "death doctor."
In his long, rambling acceptance speech, Pacino said that it was a pleasure "portraying someone as brilliant and interesting and unique as Dr. Jack Kevorkian. The fun I had just trying to get inside his head. We talk about him all the time, just asking him things, just to hear his spin on it. It was just a pleasure to know him. It was quite an honor for me."

Pacino finally wrapped things up with yet another shout-out to Dr. Death. "There you are Jack," Pacino yelled out, sounding very much like one his Academy Award winning movie characters, as he found where Kevorkian was sitting in the audience. "You're a beauty!" Pacino yelled, "You're all right Jack!"
IT'S NOTHING PERSONAL. IT'S STRICTLY BUSINESS.
CLICK ON THE PICS BELOW TO SEE THE ENTIRE GALLERY OF
AL PACINO WINNING THE EMMY AWARD FOR "YOU DON'T KNOW JACK!"

THE HEYMAN HUSTLE'S VERY OWN TRAINED MONKEYS ARE PROUD
TO PRESENT THE TOP 15 STORIES OF THE DAY, ALL CONVENIENTLY
LINKED HERE FOR YOUR REVIEW. NO NEED TO SURF THE WEB, WE
DID ALL THE HARD WORK FOR YOU. JUST PICK A PIC AND CLICK!