With just two weeks to go on this season's American Idol, the hype has gone from "clever marketing" to "full blown media blitz." The 3 surviving contestants all got to go home on Friday, with the American Idol producers arranging personal appearances, concerts, hometown parades, and anything they could think of to drum up support and momentum going into this season's final episode.
In Chicagoland, the big deal today was the soft spoken and ever-so-humble Lee DeWyze, the former paint salesman whose pleasant demeanor and sincere attitude have made him a true favorite of Idol fans nationwide. The local-kid-who-done-good on "Good Morning Chicago" where he did the age-old standby for guests of morning news programs … he tried to do the weathercast!

Lee then did a slew of radio appearances to promote next week's Idol.

Of course, his every move was taped by the Idol producers for inclusion in next week's show.
Lee then made an appearance at AT&T Mobile store in Spokie, Il. to perform "The Boxer." Midway through his song, DeWyze told the crowd, "This is so hard!" He was overcome with emotion throughout the day, which included throwing out the 1st pitch at the Chicago Cubs game at Wrigley Field; a stop by his high school the Forest View Alternative School, a parade through his hometown of Mt. Prospect; and a performance in front of an estimated 35,000 to 40,000 at Arlington Park.
"I don't deserve this and I love you so much," DeWyze said at the end of his performance. "I will try and win this. I hate to leave for many reasons. You put so much into this for me and now I will get on a plane and go back (to L.A.) and all I will l think about is all of you right now."
Why wait until next week's Idol episode? THE HEYMAN HUSTLE has both pictures and video from Lee's homecoming below!
CHICAGO LOVES LEE!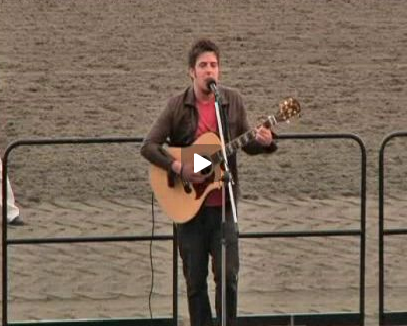 CLICK ON THE PHOTOS BELOW TO SEE THE ENTIRE
GALLERY OF LEE'S HOMECOMING, WHICH WILL AIR
AS PART OF "AMERICAN IDOL" NEXT WEEK ON FOX
---
THE HEYMAN HUSTLE IS PLEASED TO PRESENT THE HOLLYWOOD
CHARLIE MEDIA WATCH, FEATURING THE TOP FIFTEEN STORIES
OF THE DAY FROM ALL OVER THE WORLD WIDE WEB. CHOSEN BY
OUR CRACK STAFF OF TRAINED MONKEYS, THE MEDIA WATCH IS
PRESENTED IN HUSTLEVISION 2010. JUST PICK A PIC … AND CLICK!