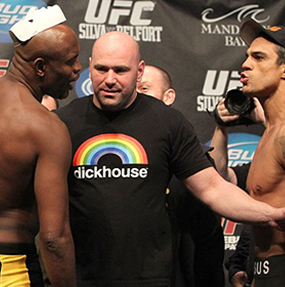 As Paul Heyman Just HustleTweeted, "It's Super Bowl Weekend. Who would have thought Anderson Silva and Vitor Belfort would become a GLOBAL topic of discussion?"
Our own Hustler De Tuti Hustlers Paul Heyman knows a thing or two about hyping a fight, so when he's impressed with the buildup to a big event, you know it's been promoted properly!

The incident tonight between UFC Middleweight Champion Anderson Silva and Vitor Belfort at the weigh-ins for tomorrow's night's pay per view spectacular from the sold out Mandalay Events Center has all the makings of becoming a major piece of footage in Ultimate Fight history.

During the open workouts yesterday, Belfort accused Silva of wearing masks, hiding himself behind personas in the cage. Silva responded tonight by wearing a JabbaWockeeZ mask and getting right up in Belfort's face. The two quickly exchanged heated words, and UFC President Dana White had to step in between them as they kept jawing at each other even when they were separated.

CLICK HERE FOR EXCLUSIVE COVERAGE OF THE UFC 126 PRE-FIGHT PRESS CONFERENCE WITH FANTASTIC PHOTOS OF SILVA AND BELFORT'S FIRST TENSE FACE-TO-FACE THIS WEEK!

CLICK HERE FOR EXCLUSIVE COVERAGE OF ANDERSON SILVA'S PUBLIC WORKOUT FOR UFC 126, IN WHICH HE SPARS WITH HIS 12 YEAR OLD SON!

The tensions are running high in Las Vegas, as Zuffa has stumbled onto one the biggest fights in UFC history. Don't miss THE HEYMAN HUSTLE's 360 coverage of UFC 126 SILVA VS BELFORT all weekend long!

We're HustleTweeting about Anderson Silva vs Vitor Belfort, and you're more than welcome to join the conversation! Follow The Hustle on Twitter HERE or write to us at hustleoncrave@gmail.com
You can also subscribe (for FREE, cheapos, absolutely FREE) to our Ultra High Quality YouTube Channel HERE, and don't forget to check out our old school social networking skills by visiting us on Facebook HERE and even on MySpace HERE
CLICK ON THE PICS BELOW TO SEE THE ENTIRE EXCLUSIVE GALLERY
OF THE INCIDENT BETWEEN UFC MIDDLEWEIGHT CHAMPION
ANDERSON SILVA AND VITOR BELFORT AT THE UFC 126 WEIGH-INS!

EVERY SINGLE DAY, OUR CRACK STAFF OF OVERWORKED
UNDERPAID BUT HIGHLY TRAINED MONKEYS SCOUR THE
WORLD WIDE WEB IN SEARCH OF THE 15 HOTTEST STORIES
OF THE DAY, JUST TO BRIGHTEN YOUR DAY. COOL, RIGHT?
ALL YOU NEED TO DO IS PICK A PIC … AND CLICK!