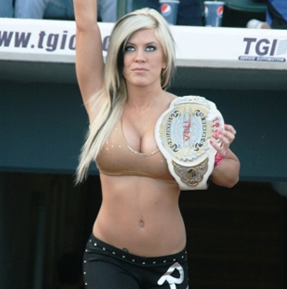 Angelina Love and The Beautiful People's Madison Rayne wrestled in front of the biggest live United States crowd in TNA history on Friday night, July 2nd at MCU Stadium in Coney Island, New York. THE HEYMAN HUSTLE's Bob Mulrenin was on hand to photograph the event, and reported "the crowd was really into the womens match. Madison Rayne put on a good show as always, and Angelina continues to follow in the footsteps of fellow Canadian TRISH STRATUS because she wants to provide not only superb eye candy for the audience, but also put on an athletic display that people can really be proud of watching. All in all, TNA Knockouts hit it out of the park in Coney Island!'
CLICK ON THE PHOTOS BELOW TO SEE THE ENTIRE GALLERY
OF ANGELINA LOVE VS MADISON RAYNE IN CONEY ISLAND, NY!

THE HEYMAN HUSTLE'S VERY OWN TRAINED MONKEYS ARE PROUD
TO PRESENT THE TOP 15 STORIES OF THE DAY, ALL CONVENIENTLY
LINKED HERE FOR YOUR REVIEW. NO NEED TO SURF THE WEB, WE
DID ALL THE HARD WORK FOR YOU. JUST PICK A PIC AND CLICK!