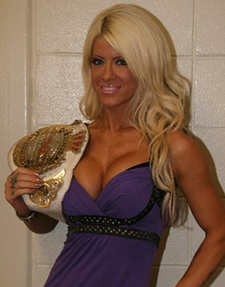 The Founding Member of The Beautiful People Lives Up To Her Billing!
With the national media salivating over JWOWW's CAT FIGHT WITH COOKIE (check out that link, we have over 140 exclusive photos!) tomorrow night on TNA Impact, we thought it was a perfect time to post these exclusive photos taken by THE HEYMAN HUSTLE's own Bob Mulrenin of Angelina Love at a personal appearance just a few weeks ago.

"Angelina Love is one of the all time pros in the wrestling business," Bob noted when sending over these awesome photographs, "she looks her fans in the eye, and makes everyone feel really special. A total class act!"

We're HustleTweeting about Angelina and The Beautiful People, and even a little about JWOWW. You're more than welcome to join the conversation by following THE HEYMAN HUSTLE on Twitter HERE or by writing to us at hustleoncrave@gmail.com

For those of you on Facebook, check us out HERE, and we're still on MySpace (for you old school social networkers) with a completely updated page (because we're obsessed like that) HERE
CLICK ON THE PICS BELOW TO SEE THE ENTIRE EXCLUSIVE
PHOTO GALLERY OF TNA KNOCKOUT ANGELINA LOVE!

THE HEYMAN HUSTLE'S VERY OWN TRAINED MONKEYS ARE PROUD
TO PRESENT THE TOP 15 STORIES OF THE DAY, ALL CONVENIENTLY
LINKED HERE FOR YOUR REVIEW. NO NEED TO SURF THE WEB, WE
DID ALL THE HARD WORK FOR YOU. JUST PICK A PIC AND CLICK!