It's the video too wild for TruTV, too profane for MTV.The Angry Grandpa threw one helluva temper tantrum this afternoon, and his (well, we really don't know if this is his son, nephew, grandson, or some uncomfortable mix of two or all three of the above) relative "Junior" caught it all on tape. Praise the advent of the modern video camera!
"Yeah, he was fixing to pump that blood pressure 30, 40 points skyward" Junior told us tonight as the video was uploading, "Grandpa just has that ornery disposition, and he's just not the type to take enough minutes out of his day to smell the Carolina tobacco leaves in the summertime. That man is fixin' for some chest clutchin' sooner than later. Either that, or he's gonna have to start takin' some more blood pressure pills. He's whatcha call a bit high strung!"
WANNA SEE THE ANGRY GRANDPA'S FATHER'S DAY
VIDEO? JUST CLICK BELOW AND STAND BACK, NEIGHBOR!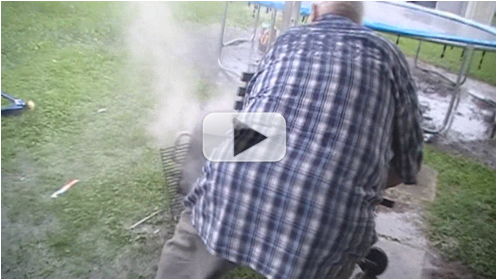 THE HEYMAN HUSTLE'S VERY OWN TRAINED MONKEYS ARE PROUD
TO PRESENT THE TOP 15 STORIES OF THE DAY, ALL CONVENIENTLY
LINKED HERE FOR YOUR REVIEW. NO NEED TO SURF THE WEB, WE
DID ALL THE HARD WORK FOR YOU. JUST PICK A PIC AND CLICK!