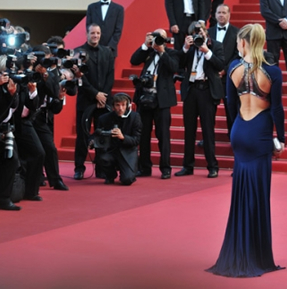 The Hottest Stars in the World Are in Cannes … But All Eyes Are on Israeli Uber-Hottie Bar Refaeli!
OK, we have a question for you, and we'd really like you to take a moment to respond.
Who is the hottest super model in the world today?
There are those who believe ROSIE HUNTINGTON-WHITELEY is simply #1, head and shoulders above the rest, especially after her BRA-LESS APPEARANCE IN VANITY FAIR MAGAZINE
Some would argue SPORTS ILLUSTRATED SWIMSUIT EDITION COVER GIRL GIRL IRINA SHAYK is now the top super model in the world, a breathtaking beauty so hot, she even makes a casual trip to Tao Las Vegas a SENSATIONALLY SEXY MEDIA EVENT
And then there's Brazilian WAG ADRIANA LIMA, currently jockeying for the top position in Victoria's Secret's babe-filled roster against The Awesome Aussie MIRANDA KERR and her brand new POST-BABY MILF HOT BODY!
But with almost every A-lister in town, all eyes in Cannes were on Bar Refaeli, the fantastically gorgeous native of The Holy Land, who put all others to shame on the red carpet this week.
So, what's your opinion?
We'd love to know!
Join the HustleTweeters by following THE HEYMAN HUSTLE on Twitter HERE or write to us at hustleoncrave@gmail.com
You can also subscribe (for FREE, cheapos, absolutely FREE) to our Ultra High Quality YouTube Channel HERE, and don't forget to check out our old school social networking skills by visiting us on Facebook HERE and even on MySpace HERE
CLICK ON THE PICS BELOW TO SEE THE ENTIRE GALLERY OF
BAR REFAELI AT THE CANNES FILM FESTIVAL!


IT'S TIME FOR AN ALL NEW EDITION OF THE HOLLYWOOD CHARLIE
MEDIA WATCH, OUR DAILY TRAVEL ACROSS THE WORLD WIDE WEB.
OUR HIGHLY TRAINED MONKEYS HAVE PICKED OUT THE 15 WILDEST
STORIES FROM THE INTERNET FOR YOUR ASTUTE REVIEW. YOUR PART
IS VERY EASY. ALL YOU NEED TO DO IS PICK A PIC … AND CLICK!