In what would be Apple's largest purchase ever, the Steve Jobs-less global conglomerate is looking to take the next step into the future of music!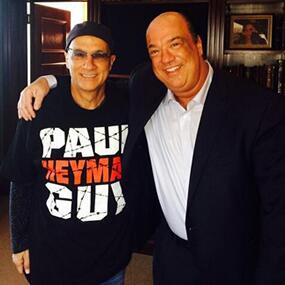 In what would be Apple's largest purchase ever, the Steve Jobs-less global conglomerate is looking to take the next step into the future of music!
The financial, tech and music worlds are all abuzz over reports that have broken this evening stating Apple is preparing to make its largest acquisition to date, a buyout of Beats Electronics, makers of the popular Beats headphones, as well as the music service, Beats Music.
The Financial Times has speculated the deal should be announced some time next week. In the last 18 months, Apple has acquired 24 companies. One of the largest recent deals for Apple was the acquisition of Prime Sense, for which Apple paid around $350 million.
In Apple's most recent earnings call, CEO Tim Cook said that the company was ready to spend a large amount of money on an acquisition if it made sense.
Beats was created by rapper Dr. Dre and the Chairman of Universal Music Group (which includes Interscope Geffen A&M Records) Jimmy Iovine. The first Beats headphones, branded as "Beats by Dr. Dre", came out in 2008. At the time, the company's products were exclusively manufactured by Monster Cable. That deal expired in 2012, which is when Iovine and Dre decided Beats would self-manufacture its products.
While Apple's devices have always come with earbuds, headphones have become more popular over the past few years. Even though audiophiles tend to dislike Beats' headphones, the company managed to capture a significant market share. It's a very lucrative market as these headphones are widely considered overpriced. That's why it makes a lot of sense for Apple to own this segment of the portable music market as well.
And then, there is the music service. In July 2012, Beats acquired music streaming service Mog. Later, the stand-alone Mog service was shut down. It was relaunched as Beats Music in January 2014. Beats Music is still a newcomer and has very few users. The acquisition price is very high because of the headphones business, not the music service. But don't look past the brilliance of buying out Mog and creating Beats Music. It's a key to the Iovine / Dre strategy.
It competes with well-established services Spotify or Rdio. There are a few extra features. Overall, the browsing experience is much more visual, with an emphasis on typography and gestures. The service also puts more emphasis on music recommendation.
In 2009, Apple acquired music service Lala, but the service was shut down and the team was put to work on Apple's projects. It's unclear whether Beats Music will live on or be shut down as well.
Apple obviously has a growing problem with music downloads. The music market is definitely shifting toward the emerging streaming services. In a stunning 2013 report released by the Recording Industry Association of America, streaming was by far the fastest growing segment of the music industry, up 39 percent year-over-year. In comparison, downloads only grew by 1.1 percent compared to 2012.
If Apple doesn't do something, Spotify and other services will become so dominant in the market place, Apple (the creator of iTunes) will look like yesterday's news. As of this writing, it is unclear whether the deals with the music labels will be carried over to Apple. It is presumed Apple will have to renegotiate with music labels at some point anyway. With the Beats acquisition, it would be acquiring a team that knows how to do a music streaming service.
Apple has already experimented with streaming services on its own, but these experiments weren't very successful. First, it launched iTunes Match. For $25 per year, you can store up to 25,000 songs in the cloud. The service syncs all your MP3s and your iTunes Store purchases so that you can stream this catalog from your iPhone or iPad.
In June 2013, Apple unveiled iTunes Radio, which was a lot like Pandora in the sense that the customer would create a radio station based on their own music tastes. It's very different from unlimited streaming services, in that the customer still can't search for a particular song and play it.
CLICK HERE TO READ OH-SO-MUCH-MORE ABOUT "BEATS" AND FIND OUT WHY CO-FOUNDER AND MUSIC MOGUL JIMMY IOVINE IS A "PAUL HEYMAN GUY"!
We are, at this very moment, HustleTweeting about Apple and Beats, and you're more than welcome to join the conversation by writing us on twitter HERE or write to us directly at hustleoncrave@gmail.com Hey, have you checked out the Hustle's Ultra High Quality You Tube Channel, with exclusive videos featuring OUR WORLD EXCLUSIVE WITH MIKE TYSON … BROCK LESNAR'S "HERE COMES THE PAIN" … ICE-T AND COCO's SEX SECRETS … MMA BAD BOY NICK DIAZ … the list goes on and on, so if you're not subscribing, you're missing something … and by the ways cheapos, it's FREE! Yes, absolutely 100 percent FREE! What are you waiting for? Check it out HERE!
By the way, we're also old school social networkers, so check out our interactive skills on Facebook HERE and even on MySpace HERE. If you're on Friendster, GFY … and have a pleasant tomorrow!

WE HERE AT THE HEYMAN HUSTLE HAVE ENSLAVED HIGHLY TRAINED
MONKEYS TO IGNORE THE FACT THEY ARE OVERWORKED AND UNDERPAID,
ALL IN THE NAME OF SCOURING THE WORLD WIDE WEB TO FIND THE FIFTEEN
MOST PROVOCATIVE STORIES ON THE INTERNET. ALL FOR YOU. NO ONE ELSE
BUT YOU. JUST YOU. AND ALL YOU NEED TO DO IS PICK WHICH PIC TO CLICK!