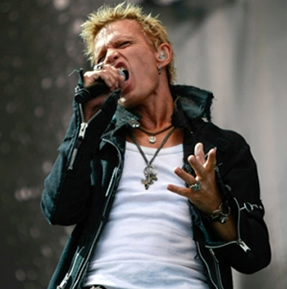 Exclusive Live Report From The Download Festival, Castle Donington
In spite of heavy rain pelting the stage and crowd throughout his hour-long set, Punk Rock Legend Billy Idol took the Main Stage at the Download Festival, and it was nothing short of electric!

Throughout his wild performance, Idol would jump down off the stage and get together with fans who were squished against the barriers surrounding the stage. Idol got so soaked, he had to change his original outfit of a black jacket and white t-shirt, changing into a ripped black t-shirt.

The spike-haired rocker hasn't missed a beat.
"Jesus, this is one way of taking a bath," said Idol after he and his band, including his long-standing guitarist Steve Stevens, performed an awesome over of The Doors' classic "L.A. Woman." Playing to the rabid crowd, Idol changed the lyrics to both "UK Woman' and "Donington Woman." The crowd ate it up, and washed it down with the rain. ".
The rain caused several microphones to malfunction throughout the show, most notably in the middle of the set finale, the crowd-pleasing "Rebel Yell." During the song, Idol mocked his band mate Billy Morrison for still having perfect hair despite the rain.
After the performance, the crowd was buzzing about the updated version of "White Wedding," which was played acoustically by Stevens for several minutes. Then they blasted it out. Idol also surprised people with a rendition of the 1978 Generation X hit "King Rocker."

Here is the rundown of Billy Idol's rain-soaked hour-long set from the Download Fest:
Cradle Of Love
Dancing With Myself
Love Is Strange
Flesh For Fantasy
Scream
Eyes Without A Face
Kings And Queens Of The Underground
White Wedding
L.A. Woman
King Rocker
Blue Highway
Rebel Yell
CLICK ON THE PHOTOS BELOW TO SEE THE ENTIRE GALLERY
OF BILLY IDOL'S RAIN-SOAKED CONCERT AT THE DOWNLOAD FEST!

IT'S THE HOLLYWOOD CHARLIE MEDIA WATCH, WITH THE
15 BEST STORIES FROM ALL AROUND THE WORLD.
WELL, ALL AROUND THE WORLD WIDE WEB.
BUT YOU ALREADY KNEW THAT, DIDN'T YOU?
PLEASE PICK A PIC AND CLICK!