Longtime rivals Brock Lesnar and WWE World Heavyweight Champion Roman Reigns come face to face on Chris Jericho's "Highlight Reel"!
And it all goes downhill from there. When you put the WWE World Heavyweight Champion, Roman Reigns in front of The Beast Incarnate, Brock Lesnar, things are bound to get ugly and chaos is guranteed, but with the WWE Royal Rumble being this Sunday, every WWE Superstar is looking to prove that they are the one that will be the last man standing … And the last one standing was unexpected and uninvited guest, Bray Wyatt. According to a report on WWE.com:
Chris Jericho promised the biggest, baddest "Highlight Reel" of them all. If he meant in terms of Superstars involved, Y2J certainly delivered. He didn't get much of an interview out of Brock Lesnar, though. Instead, he got a conversation with Paul Heyman that only brought out The Beast after Jericho got hostile. Roman Reigns arrived shortly after, Spearing The Beast to instigate a brawl that came to include The League of Nations — dispatched swiftly by Lesnar — and, shockingly, The Wyatt Family, who downed both Reigns and The Conqueror with their collective power. Maybe Jericho is right: Things really never will be the same again.
Of course, we're HustleTweeting about WWE Monday Night Raw, and you're more than welcome to join the conversation by following the Hustle on Twitter HERE or write to us directly at hustleoncrave@gmail.com Hey, have you checked out the Hustle's Ultra High Quality You Tube Channel, with exclusive videos featuring the #HUSTLEBOOTYTEMPTATS SUPERMODEL OF THE YEAR … OUR WORLD EXCLUSIVE WITH MIKE TYSON … BROCK LESNAR'S "HERE COMES THE PAIN" … ICE-T AND COCO's SEX SECRETS … MMA BAD BOY NICK DIAZ … the list goes on and on, so if you're not subscribing, you're missing something … and by the ways cheapos, it's FREE! Yes, absolutely 100 percent FREE! What are you waiting for? Check it out HERE!
By the way, we're also old school social networkers, so check out our interactive skills on Facebook HERE and even on MySpace HERE. If you're on Friendster, GFY … and have a pleasant tomorrow!

CLICK ON THE PICS BELOW TO SEE THE OFFICIAL WWE PHOTO GALLERY FEATURING BROCK LESNAR, PAUL HEYMAN, CHRIS JERICHO, ROMAN REIGNS AND MORE!


CLICK BELOW TO WATCH THE CHAOS!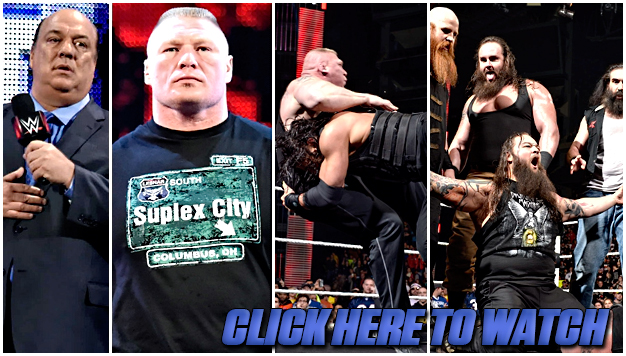 WE HERE AT THE HEYMAN HUSTLE HAVE ENSLAVED HIGHLY TRAINED
MONKEYS TO IGNORE THE FACT THEY ARE OVERWORKED AND UNDERPAID,
ALL IN THE NAME OF SCOURING THE WORLD WIDE WEB TO FIND THE FIFTEEN
MOST PROVOCATIVE STORIES ON THE INTERNET. ALL FOR YOU. NO ONE ELSE
BUT YOU. JUST YOU. AND ALL YOU NEED TO DO IS PICK WHICH PIC TO CLICK!