CM Punk's return to WWE Monday Night RAW was indeed historic … but for all the wrong reasons! Brock Lesnar makes a surprise return … and F5's his fellow "Paul Heyman Guy" … but Paul is nowhere to be found!
All of a sudden, WWE Monday Night RAW is a hotbed of intrigue, as CM PUNK TOLD PAUL HEYMAN "I'M NOT YOUR CLIENT" which was followed up by PAUL HEYMAN ASSURING CM PUNK THEIR FRIENDSHIP WAS STRONGER THAN BUSINESS … but when The Best in the World went out to the ring against World Champion Alberto Del Rio, little did he know The Beast Incarnate was going to come out and bring the pain! According to WWE.com:
It was shades of Survivor Series 2011 when CM Punk faced off against World Champion Alberto Del Rio on Raw, and while the ending of their bout was technically the same – Punk claimed the win – the circumstances and aftermath could not have been more different. The two Superstars came out swinging against each other, though Del Rio's frustration boiled over as the WWE Universe cheered for Punk, leading him to unleash a similar barrage of kicks he had against Dolph Ziggler the previous night. Del Rio targeted Punk's left arm rather than his head, but the strategy paid dividends until Punk rallied with a last-ditch Go to Sleep that sent Del Rio rolling outside the ring. This, as they say, is where it got interesting.
Ricardo hauled his hermano to his feet at the count of ten (suffering a loss in the process) and carried him to the locker room, but the pair was besieged by a furious Dolph Ziggler, defying doctor's orders by showing up of his own accord and laying a rabid beatdown on the unsuspecting champion. Punk was left to celebrate his win, but imagine his surprise when Brock Lesnar's music hit instead of his own. And imagine his surprise when The Anomaly appeared in the flesh, stalking Punk outside the ring before he clipped The Second City Saint's wings with a ruthless F-5. What's that old adage again? Here comes the pain.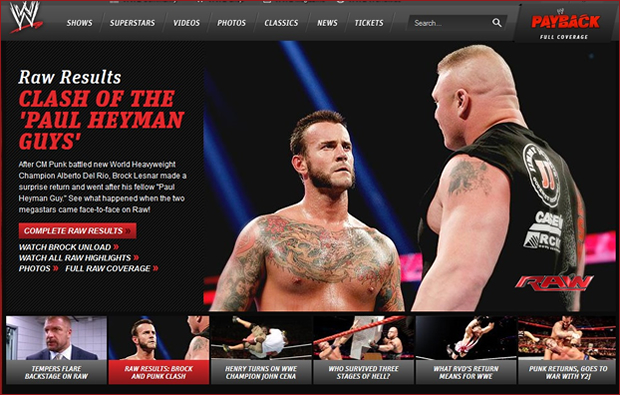 CLICK HERE FOR THE OFFICIAL CM PUNK / "PAUL HEYMAN GUY" T-SHIRT COMBO!
CLICK HERE FOR THE OFFICIAL BROCK LESNAR / "PAUL HEYMAN GUY" T-SHIRT COMBO!
Of course, we're HustleTweeting about Brock Lesnar F5ing CM Punk, and you're more than welcome to join the conversation by following us on twitter HERE or write us directly at hustleoncrave@gmail.com Hey, have you checked out the Hustle's Ultra High Quality You Tube Channel, with exclusive videos featuring OUR WORLD EXCLUSIVE WITH MIKE TYSON … BROCK LESNAR'S "HERE COMES THE PAIN" … ICE-T AND COCO's SEX SECRETS … TEEN SENSATION TAYLOR MOMSEN … UFC BAD BOY NICK DIAZ … THE WALKING RIOT MISSY HYATT if you're not subscribing, you're missing something … and by the ways cheapos, it's FREE! Yes, absolutely 100 percent FREE! What are you waiting for? Check it out HERE!
CLICK ON THE PICS BELOW FOR THE OFFICIAL WWE PHOTO GALLERY
FEATURING BROCK LESNAR F5ing CM PUNK ON MONDAY NIGHT RAW!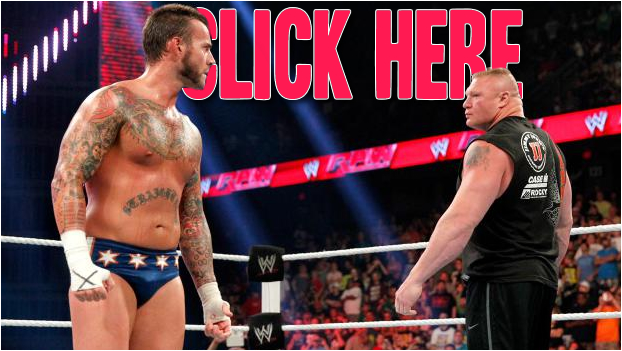 WE HERE AT THE HEYMAN HUSTLE HAVE ENSLAVED HIGHLY TRAINED
MONKEYS TO IGNORE THE FACT THEY ARE OVERWORKED AND UNDERPAID,
ALL IN THE NAME OF SCOURING THE WORLD WIDE WEB TO FIND THE FIFTEEN
MOST PROVOCATIVE STORIES ON THE INTERNET. ALL FOR YOU. NO ONE ELSE
BUT YOU. JUST YOU. AND ALL YOU NEED TO DO IS PICK WHICH PIC TO CLICK!