In perhaps the most memorable RAW segment in our very own Hustler De Tuti Hustlers' storied career sees an epic verbal exchange followed by a wild brawl that has everyone thinking about Summer Slam!
WWE Monday Night RAW from the Barclays Center in Brooklyn, New York will forever be remembered as the night our very own Hustler De Tuti Hustlers Paul Heyman revealed, in explicit detail, why he betrayed CM Punk … and the night Punk brawled with Brock Lesnar! According to WWE.com:
CM Punk knows better than most that actions speak louder than words, so it was hardly a surprise when The Straight Edge Superstar demanded that Paul Heyman present himself following Heyman's betrayal at Money in the Bank. Bristling at Punk's apparent notions of superiority since his return, Heyman indeed appeared and fessed up to his recent machinations in full. In fact, he did Punk one better, insinuating he turned his back on his friend because his first client – Brock Lesnar – was simply superior and would not fail him as Punk did at WrestleMania against The Undertaker.
Punk, of course, vowed to make Heyman pay, and was summarily repaid with pain when the mad scientist summoned Lesnar from the shadows and sicced the former UFC Champion on The Straight Edge Sueprstar. Punk valiantly rained elbows on The Anomaly's head, but his heart wasn't enough on this particular night when Brock unleashed a monstrous F-5 on the former WWE Champion, dropping him onto the announce table and leaving him to eat the concrete and his words in equal measure. Punk did made it to his feet once the dust had settled, but the damage had already been done.
and you're more than welcome to join the conversation by following us on twitter HERE or write us directly at hustleoncrave@gmail.com Hey, have you checked out the Hustle's Ultra High Quality You Tube Channel, with exclusive videos featuring OUR WORLD EXCLUSIVE WITH MIKE TYSON … BROCK LESNAR'S "HERE COMES THE PAIN" … ICE-T AND COCO's SEX SECRETS … TEEN SENSATION TAYLOR MOMSEN … UFC BAD BOY NICK DIAZ … THE WALKING RIOT MISSY HYATT if you're not subscribing, you're missing something … and by the ways cheapos, it's FREE! Yes, absolutely 100 percent FREE! What are you waiting for? Check it out HERE!
CLICK ON THE PICS BELOW TO SEE THE ENTIRE OFFICIAL WWE PHOTO
GALLERY OF PAUL HEYMAN – CM PUNK – BROCK LESNAR ON RAW!

HIGHLIGHTS FROM THE BROCK LESNAR – CM PUNK BRAWL ON RAW!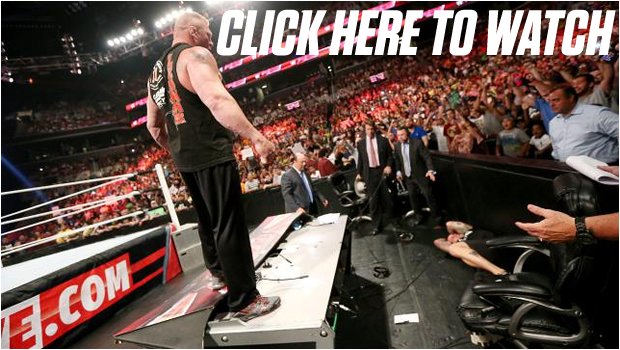 WE HERE AT THE HEYMAN HUSTLE HAVE ENSLAVED HIGHLY TRAINED
MONKEYS TO IGNORE THE FACT THEY ARE OVERWORKED AND UNDERPAID,
ALL IN THE NAME OF SCOURING THE WORLD WIDE WEB TO FIND THE FIFTEEN
MOST PROVOCATIVE STORIES ON THE INTERNET. ALL FOR YOU. NO ONE ELSE
BUT YOU. JUST YOU. AND ALL YOU NEED TO DO IS PICK WHICH PIC TO CLICK!