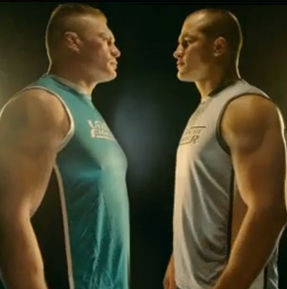 The Ultimate Fighter Releases A Promotional Video Promoting The New Season on Spike TV!!
A brand new video has been released on Former Undisputed UFC Heavyweight Champion Brock Lesnar, and one would certainly get the impression Brock is preparing for a war against Junior Dos Santos.
The video, entitled "This is Who I Am," promotes Season 13 of The Ultimate Fighter, which premieres Wednesday, March 30th at 9pm Eastern / 8 Central on Spike TV.
CLICK HERE TO PRE-ORDER BROCK LESNAR'S AUTOBIOGRAPHY "DEATH CLUTCH: MY STORY OF DETERMINATION, DOMINATION, AND SURVIVAL" (CO-WRITTEN BY OUR OWN HUSTLER DE TUTI HUSTLER PAUL HEYMAN) FROM AMAZON!
We're HustleTweeting about Brock, The Ultimate Fighter, and the fight against Junior Dos Santos, and you're more than welcome to join the conversation! Follow the Hustle on Twitter HERE or write to us directly at hustleoncrave@gmail.com
You can also subscribe (for FREE, cheapos, absolutely FREE) to our Ultra High Quality YouTube Channel HERE, and don't forget to check out our old school social networking skills by visiting us on Facebook HERE and even on MySpace HERE
CLICK ON THE PICS BELOW TO SEE
THE ULTIMATE BROCK LESNAR PHOTO GALLERY!

BROCK LESNAR: "THIS IS WHO I AM!"

IT'S TIME FOR AN ALL NEW EDITION OF THE HOLLYWOOD CHARLIE
MEDIA WATCH, OUR DAILY TRAVEL ACROSS THE WORLD WIDE WEB.
OUR HIGHLY TRAINED MONKEYS HAVE PICKED OUT THE 15 WILDEST
STORIES FROM THE INTERNET FOR YOUR ASTUTE REVIEW. YOUR PART
IS VERY EASY. ALL YOU NEED TO DO IS PICK A PIC … AND CLICK!