Up-to-the-minute coverage of Brock Lesnar's brutal assault on Dean Ambrose!
Brock Lesnar sent Dean Ambrose to the hospital based on The Lunatic Fringe's attack with a steel chair at WWE FAST LANE. So once RAW went on the air, it was already a big news day. Then Paul Heyman came out to the ring with Brock. And then Ambrose returned from the hospital. Never a dull moment, as covered by WWE.com:
Among the many takeaways from WWE Fastlane's main event was that, if not for Dean Ambrose and a steel chair to the back, Brock Lesnar may well be headed to WrestleMania instead of Roman Reigns. The Conqueror does not take losing lightly; hence his barbaric sneak attack of The Lunatic Fringe in the Joe Louis Arena parking lot before Raw. But what Lesnar fails to grasp is that Dean Ambrose is so tough that he may well outlive both cockroaches and the Twinkie.
Following Heyman's demand that a new WrestleMania opponent present himself to The Beast, the punch-drunk Lunatic Fringe somehow managed to commandeer an ambulance and crawl his way back to Raw to confront Lesnar and challenge him to a No Holds Barred Match at The Show of Shows. Not only did Lesnar accept, but he also gave Ambrose a free sneak preview by F-5ing him onto the arena floor. Rough start on The Road to WrestleMania, but rest assured, Ambrose will be back for more.
Of course, we're HustleTweeting about WWE Monday Night RAW, and you're more than welcome to join the conversation by following the Hustle on Twitter HERE or write to us directly at hustleoncrave@gmail.com. Hey, have you checked out the Hustle's Ultra High Quality YouTube Channel, with exclusive videos featuring Backstage with Brock Lesnar and Paul Heyman… The Footage "They" Never Wanted You To See … UFC Bad Boy Nick Diaz's Wildest Video Ever … Behind The Scenes at WrestleMania … ICE-T and Coco's Sex Secrets … the list goes on and on, so if you're not subscribing, you're missing something … and by the ways cheapos, it's FREE! Yes, absolutely 100 percent FREE! What are you waiting for? Check it out HERE!
And whatever you do, don't forget to LIKE our interactive Heyman Hustle Facebook Page … yes, we used to be on MySpace but we forgot our password (not that it matters anymore). We encourage you to GFY if you're looking for a profile on Friendster and perhaps send us some pics if you thought about searching for us on Tinder. #JustSaying!

CLICK ON THE PICS BELOW TO SEE THE OFFICIAL WWE PHOTO GALLERY FEATURING BROCK LESNAR, PAUL HEYMAN AND DEAN AMBROSE!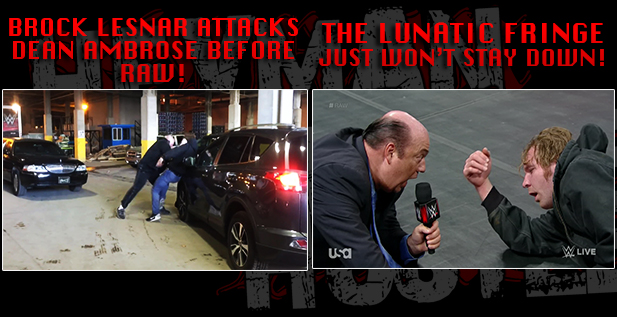 WE HERE AT THE HEYMAN HUSTLE HAVE ENSLAVED HIGHLY TRAINED
MONKEYS TO IGNORE THE FACT THEY ARE OVERWORKED AND UNDERPAID,
ALL IN THE NAME OF SCOURING THE WORLD WIDE WEB TO FIND THE FIFTEEN
MOST PROVOCATIVE STORIES ON THE INTERNET. ALL FOR YOU. NO ONE ELSE
BUT YOU. JUST YOU. AND ALL YOU NEED TO DO IS PICK WHICH PIC TO CLICK!