Following Up On The Blockbuster Announcement Brock Lesnar Will Be The Special Guest in the WWE '12 Video Game, THQ Releases An Action-Packed Video To Get You Ready For The Game's Release!
THQ's WWE Games has released a brand new video hyping Former NCAA, WWE, and UFC Heavyweight Champion Brock Lesnar's inclusion in the WWE '12 Video Game. The video, which features actual gameplay from the heavily-anticipated game, is just part of the rollout THQ is planning for the game's release on Tuesday, November 22nd (just two days after WWE Survivor Series from Madison Square Garden).
CLICK HERE TO SEE THE BROCK LESNAR TRAILER FOR WWE '12 WRITTEN, PRODUCED, AND DIRECTED BY OUR OWN HUSTLER DE TUTI HUSTLERS PAUL HEYMAN AND MITCHELL STUART!
Fans are going absolutely crazy over Brock's involvement in the game, and you can check out his full WWE '12 in-game roster profile RIGHT HERE. For more up-the-minute WWE '12 info on Brock Lesnar, LIKE THEIR OFFICIAL FACEBOOK PAGE HERE
Of course, we're HustleTweeting about Brock in WWE '12, and we'd like you to become a HustleTweeter and let your opinions be known to the world! Follow THE HEYMAN HUSTLE on Twitter HERE or write to us directly at hustleoncrave@gmail.com Hey, have you checked out the Hustle's Ultra High Quality You Tube Channel, with videos featuring ICE-T AND COCO's SEX SECRETS … THE ULTIMATE WELTERWEIGHT BAD ASS NICK DIAZ … CONTROVERSIAL TEEN SENSATION TAYLOR MOMSEN … LEGENDARY MMA PIONEER FRANK SHAMROCK … THE WALKING RIOT MISSY HYATT … if you're not subscribing, you're missing something … and by the ways cheapos, it's FREE! Yes, absolutely 100 percent FREE! What are you waiting for? Check it out HERE!
By the way, we're also old school social networkers, so check out our interactive skills on Facebook HERE and even on MySpace HERE. If you're on Friendster, GFY … and have a pleasant tomorrow!
THQ PRESENTS BROCK LESNAR IN WWE '12!

CLICK BELOW TO WATCH THE VIDEO NOW!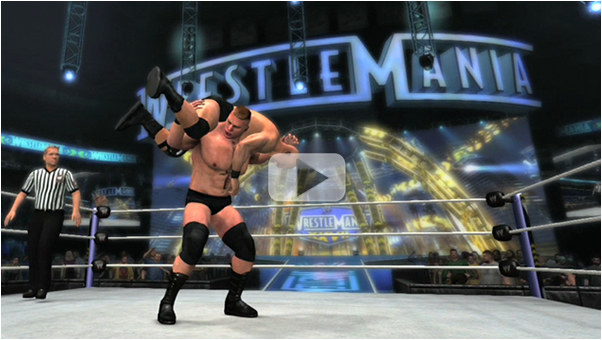 THE HEYMAN HUSTLE'S VERY OWN TRAINED MONKEYS ARE PROUD
TO PRESENT THE TOP 15 STORIES OF THE DAY, ALL CONVENIENTLY
LINKED HERE FOR YOUR REVIEW. NO NEED TO SURF THE WEB, WE
DID ALL THE HARD WORK FOR YOU. JUST PICK A PIC AND CLICK!