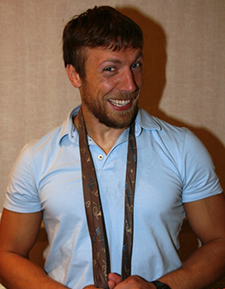 It's amazing how one phone call can change the landscape. I stepped into the beautiful summer night to go to a concert on Friday, June 11th when my phone rang and name "Bryan Danielson" came up.
It was surprising, as I hadn't heard from the man now known as Daniel Bryan in a few months. Maybe he was looking for some feedback since he was coming off the red hot NXT angle the previous Monday. It's embarrassing to say, but I didn't pick up the call, figuring that he could be reached the next day. As the car door opened, the voicemail played. He simply said, "something happened and it can be good for both of us."

My touch screen Android phone couldn't act fast enough as I immediately fumbled for his contact entry. Bryan started things off by saying that Vince McMahon had just fired him due to the attack on John Cena. I was stunned, but Bryan sounded as calm and happy as ever. Then he turned the subject to EVOLVE. Later we discussed Dragon Gate USA.

EVOLVE was a project that Bryan and I started in January of 2009. In fact, Bryan thought of the name when he was on tour in Japan. We both had similar philosophies about some of the changes that needed to be made to both the style and presentation of pro wrestling. We spent several months discussing and developing ideas. We were even close to major funding at one point. However, when that fell through, it was time for Bryan to make the leap to WWE. I made no attempt to stop him. It was time for him to make his money.

Now don't feel bad for Bryan. Sure, he got screwed. Yes, he got a raw deal. However, he's going to end up fine. His calendar quickly filled up with bookings and he has many options on his table for the future. People ask all the time if he's going back to WWE or to TNA or somewhere else. I don't believe Bryan even knows yet. There is no telling what the future holds, but the possibilities are there. For now, we'll focus on this weekend.

Tonight, Bryan will finally wrestle for the promotion he named. "EVOLVE 4: Danielson vs. Fish" will take place at The Ace Arena in Union City, NJ, right outside the Lincoln Tunnel (www.EVOLVEwrestling.com) We call it wrestling's newest brand. We use the word "brand" for a distinct reason. We are trying to create something original here. We are working our hardest to bring something fresh to a stale wrestling landscape that is constantly trying to re-live the past. We are looking to bring wrestling into the future.

Bryan hand selected his opponent Bobby Fish. Now we realize that many of you might not be familiar with Fish, but he epitomizes the EVOLVE brand. He is hard-working, driven, athletic and innovative. Bryan and Fish actually teamed together in Japan for Pro Wrestling NOAH. Bryan always saw a lot in Fish. He thinks he can become a star. In order to further wrestling, you have to give new faces a chance to make themselves. Bobby Fish is getting that chance tonight.

Tomorrow, Bryan will return for his second match in Dragon Gate USA (The Arena, South Philadelphia, www.DGUSA.tv for info). It is a special night for the entire Dragon Gate crew as it marks our first anniversary. Bryan is working Shingo. This is a much different situation than the Bobby Fish match. Shingo is an established main event star in Japan. He is an elite talent, with both in ring ability and charisma that transcends language barriers. This Saturday will truly be a match between two athletes at the peak of their profession. I plan to sit back and just enjoy this one.

I'm not one that buys into the "microwave culture." We believe in building slowly. However, on June 11th things suddenly changed. Now this weekend will not only be "good for both of us" but all of wrestling. EVOLVE and DGUSA are looking to pave the way into the future.
CLICK ON THE PICS BELOW TO SEE
THE ENTIRE EXCLUSIVE PHOTO GALLERY OF BRYAN DANIELSON

THE HEYMAN HUSTLE'S VERY OWN TRAINED MONKEYS ARE PROUD
TO PRESENT THE TOP 15 STORIES OF THE DAY, ALL CONVENIENTLY
LINKED HERE FOR YOUR REVIEW. NO NEED TO SURF THE WEB, WE
DID ALL THE HARD WORK FOR YOU. JUST PICK A PIC AND CLICK!