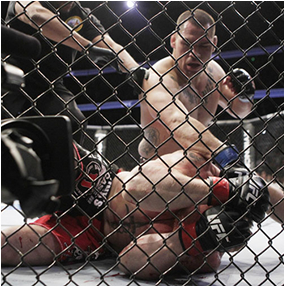 Cain Velasquez Defeated Brock Lesnar For The Undisputed UFC Heavyweight Championship of the World on Saturday Night. Our own Hustler De Tuti Hustlers Paul Heyman Tweeted Some Very Interesting Comments Moments After The Historic Fight!
All last week, Paul was embedded in Camp Lesnar, posting exclusive photos of Brock you could not possibly find anywhere else. These exclusive behind-the-scenes photos of UFC's most private champion of all time were a rare glimpse of a man who is nothing short of a recluse.

CLICK HERE FOR THE HEYMAN HUSTLE TWITTER PAGE, WITH ALL THE EXCLUSIVE PHOTOS AND BEHIND-THE-SCENES TWEETS FROM LAST WEEK!

CLICK HERE FOR PAUL'S BLOG ON BROCK JUST HOURS BEFORE THE UFC 121 TITLE FIGHT!

Moments after Brock lost the championship to Cain Velasquez, Paul posted a series of tweets, which we have put together below. Here's what Pal had to say after Cain beat Brock for the UFC Championship:

"My most sincere congratulations to a great champion in Cain Velasquez! Cain was awesome, and I want my children to grow up respecting that. I want my kids to grow up respecting a performance like Cain's victory, not resenting it. That's the "real sports" biz … You win AND you lose."
CLICK ON THE PICS BELOW TO SEE THE ENTIRE GALLERY OF
CAIN VELASQUEZ'S UFC 121 TITLE VICTORY OVER BROCK LESNAR!

THE HEYMAN HUSTLE'S VERY OWN TRAINED MONKEYS ARE PROUD
TO PRESENT THE TOP 15 STORIES OF THE DAY, ALL CONVENIENTLY
LINKED HERE FOR YOUR REVIEW. NO NEED TO SURF THE WEB, WE
DID ALL THE HARD WORK FOR YOU. JUST PICK A PIC AND CLICK!