Our very own Hustler De Tuti Hustlers Paul Heyman joins Michael Cole and JBL at ringside for commentary as all Hell breaks loose inside the ring!
Intercontinental Champion Wade Barrett defended his title in a Triple Threat Match on WWE Smackdown against Rob Van Dam and Paul Heyman Guy Cesaro, and the action was non-stop and compelling to say the least. According to WWE.com:
Following Cesaro's ambush on Bad News Barrett and Rob Van Dam on WWE Main Event – cutting short their Intercontinental Championship rematch – all three rival Superstars squared off on SmackDown in a thrilling Triple Threat Match for the illustrious title.
Although RVD and The King of Swing did their best to capture the coveted prize, with Paul Heyman joining the SmackDown announce team, the Intercontinental Champion once again showed that no one delivers bad news quite like the British brawler. Following a Five-Star Frog Splash from Mr. Monday Night to the Swiss Superstar, the titleholder caught an unsuspecting RVD with the Bad News Bull Hammer Elbow for the win.
Of course, we're HustleTweeting about WWE Smackdown, and you're more than welcome to join the conversation by writing us on twitter HERE or write to us directly at hustleoncrave@gmail.com Hey, have you checked out the Hustle's Ultra High Quality You Tube Channel, with exclusive videos featuring OUR WORLD EXCLUSIVE WITH MIKE TYSON … BROCK LESNAR'S "HERE COMES THE PAIN" … ICE-T AND COCO's SEX SECRETS … MMA BAD BOY NICK DIAZ … the list goes on and on, so if you're not subscribing, you're missing something … and by the ways cheapos, it's FREE! Yes, absolutely 100 percent FREE! What are you waiting for? Check it out HERE!
By the way, we're also old school social networkers, so check out our interactive skills on Facebook HERE and even on MySpace HERE. If you're on Friendster, GFY … and have a pleasant tomorrow!
CLICK ON THE PICS BELOW FOR THE ENTIRE OFFICIAL PHOTO GALLERY!

HIGHLIGHTS OF CESARO vs RVD vs WADE BARRETT ON SMACKDOWN!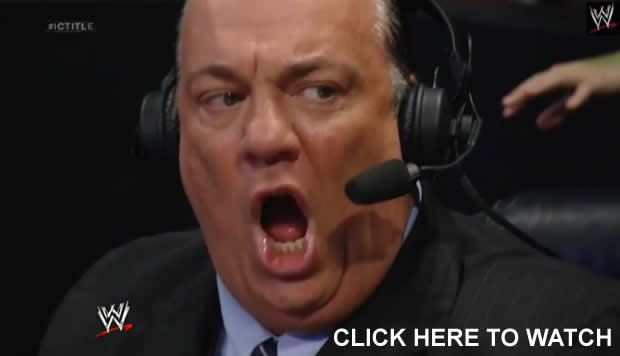 WE HERE AT THE HEYMAN HUSTLE HAVE ENSLAVED HIGHLY TRAINED
MONKEYS TO IGNORE THE FACT THEY ARE OVERWORKED AND UNDERPAID,
ALL IN THE NAME OF SCOURING THE WORLD WIDE WEB TO FIND THE FIFTEEN
MOST PROVOCATIVE STORIES ON THE INTERNET. ALL FOR YOU. NO ONE ELSE
BUT YOU. JUST YOU. AND ALL YOU NEED TO DO IS PICK WHICH PIC TO CLICK!