The Swiss Superman demonstrates his amazing strength as our very own Hustler De Tuti Hustlers Paul Heyman provides insight regarding his newest client!
The most headline-worthy week in WWE history continued as Cesaro hit a Neutralizer on the 7 foot tall Big Show after a fantastic match on Smackdown. This comes after BROCK LESNAR BROKE THE UNDERTAKER'S STREAK … PAUL HEYMAN DELIVERED WHAT MANY SAY IS THE BEST PROMO OF HIS CAREER … and CESARO SHOCKED THE WORLD BY ANNOUNCING HE'S THE NEW PAUL HEYMAN GUY! So when WWE announced Cesaro vs The Big Show for Smackdown in Lafayette, Louisiana, everyone knew Cesaro had to make a big statement. According to WWE.com:
Introduced by his new advocate, Paul Heyman, Cesaro went head-to-head with Big Show – the very same giant he threw over the top rope to win WrestleMania's Andre the Giant Memorial Battle Royal on Sunday.
In the height of a contest between The World's Largest Athlete and "The King of Swing" – before Cesaro could attempt a Cesaro Swing on his gigantic foe – Jack Swagger suddenly attacked his former tag team partner and brought an end to the match by disqualification.
Angry over the disruption, Big Show hurled the disruptive Real American out of the ring. Cesaro used this to regain a post-match advantage, hitting the Neutralizer on the giant in the center of the ring!
Of course, we're HustleTweeting about Cesaro, and you're more than welcome to join the conversation (and you have to realize, this is one ridiculously lively conversation) by writing us on twitter HERE or write to us directly at hustleoncrave@gmail.com  Hey, have you checked out the Hustle's Ultra High Quality You Tube Channel, with exclusive videos featuring OUR WORLD EXCLUSIVE WITH MIKE TYSON … BROCK LESNAR'S "HERE COMES THE PAIN" … ICE-T AND COCO's SEX SECRETS … MMA BAD BOY NICK DIAZ … the list goes on and on, so if you're not subscribing, you're missing something … and by the ways cheapos, it's FREE! Yes, absolutely 100 percent FREE! What are you waiting for? Check it out HERE!
By the way, we're also old school social networkers, so check out our interactive skills on Facebook HERE and even on MySpace HERE. If you're on Friendster, GFY … and have a pleasant tomorrow!
CLICK ON THE PICS BELOW FOR HIGHLIGHTS OF CESARO VS BIG SHOW!

CESARO NAILS THE NEUTRALIZER ON THE 7 FOOT TALL BIG SHOW!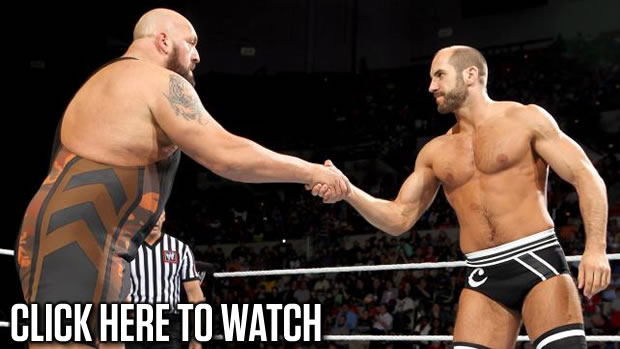 WE HERE AT THE HEYMAN HUSTLE HAVE ENSLAVED HIGHLY TRAINED
MONKEYS TO IGNORE THE FACT THEY ARE OVERWORKED AND UNDERPAID,
ALL IN THE NAME OF SCOURING THE WORLD WIDE WEB TO FIND THE FIFTEEN
MOST PROVOCATIVE STORIES ON THE INTERNET. ALL FOR YOU. NO ONE ELSE
BUT YOU.  JUST YOU. AND ALL YOU NEED TO DO  IS PICK WHICH PIC TO CLICK!