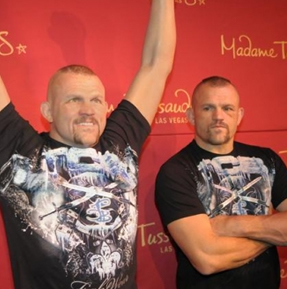 The Iceman was waxed and put on display, as Chuck Liddell was immortalized in wax this week as he became the very first ever MMA fighter to have a wax statue at Madam Toussaud's in Las Vegas. It's clearly a bittersweet time for Chuck, as so many people are prepare to celebrate a career he doesn't believe (or want to believe) is over. UFC President Dana White said that he and Liddell had dinner last week, but there was the issue of Chuck's return to the Octragon, where he has suffered three knockouts.
"It's always cool hanging out with my friend, but Chuck's having a hard time with this thing," White said. "He told me tonight the show open messed him up, watching (UFC 116) open. This guy's in this longer than me. He's been around forever and loves the sport."

CLICK HERE FOR PAUL HEYMAN'S BLOG ON LESNAR, CARWIN, UFC 116, AND DANA VS VINCE!

CLICK HERE FOR BROCK LESNAR UFC 116 WALKOUT T-SHIRT!

Dana White concluded,"All I'm hoping is that he makes the right decision, White stated, I'm hoping he's going to retire."
CLICK HERE TO SEE THE ENTIRE
GALLERY OF CHUCK LIDDELL IN WAX!

THE HEYMAN HUSTLE'S VERY OWN TRAINED MONKEYS ARE PROUD
TO PRESENT THE TOP 15 STORIES OF THE DAY, ALL CONVENIENTLY
LINKED HERE FOR YOUR REVIEW. NO NEED TO SURF THE WEB, WE
DID ALL THE HARD WORK FOR YOU. JUST PICK A PIC AND CLICK!