The longest reigning defending WWE Champion of the past 25 years will make his return … and we have all the straight edge details … and highlights from the Reel Confrontation between Chris Jericho and our very own Hustler De Tuti Hustlers!
The announcement everyone has been waiting for, the return of CM Punk to WWE, has taken place, as our boss Paul Heyman appeared on Chris Jericho's Highlight Reel on Monday Night RAW. It's not like Paul was planning on making this announcement. In fact, he was goaded into it.

More information courtesy WWE.com:
Gotcha, Paul. WWE's resident mad scientist and master manipulator got a taste of his own medicine on "The Highlight Reel" when Chris Jericho backed Paul Heyman into a difficult corner and got a big, big concession out of him in return. It went down like this: Heyman appeared on "The Highlight Reel" ostensibly to discuss his recruitment of Curtis Axel, but Jericho quickly flipped the script and brought up Heyman's other client. Nope, not Brock Lesnar. The other client.
Heyman clammed up quickly at the mere mention of CM Punk's name, but Jericho had little problem with riling up the mad scientist, playing the "Best in the World" card to expert effect to the point where a flustered Heyman would have done just about anything Y2J wanted to defend his client's honor. What Jericho wanted, as it turned out, was a match with The Straight Edge Superstar at WWE Payback in Chicago. And what happened was, Heyman accepted. Well played, Jericho. Well played.
CLICK HERE TO ORDER YOUR VERY OWN OFFICIAL CM PUNK / PAUL HEYMAN T-SHIRT COMBO!

CLICK HERE TO ORDER YOUR VERY OWN OFFICIAL "PAUL HEYMAN GUY" T-SHIRT FROM WWE!

We're HustleTweeting about The Return of CM Punk, and you're more than welcome to join the conversation by following us on twitter HERE or write us directly at hustleoncrave@gmail.com Hey, have you checked out the Hustle's Ultra High Quality You Tube Channel, with exclusive videos featuring OUR WORLD EXCLUSIVE WITH MIKE TYSON … BROCK LESNAR'S "HERE COMES THE PAIN" … ICE-T AND COCO's SEX SECRETS … TEEN SENSATION TAYLOR MOMSEN … UFC BAD BOY NICK DIAZ … THE WALKING RIOT MISSY HYATT if you're not subscribing, you're missing something … and by the ways cheapos, it's FREE! Yes, absolutely 100 percent FREE! What are you waiting for? Check it out HERE!
CLICK ON THE PICS BELOW TO SEE THE ENTIRE OFFICIAL WWE PHOTO
GALLERY OF PAUL HEYMAN BEING CONFRONTED BY CHRIS JERICHO!

PAUL HEYMAN ANNOUNCES THE RETURN OF CM PUNK!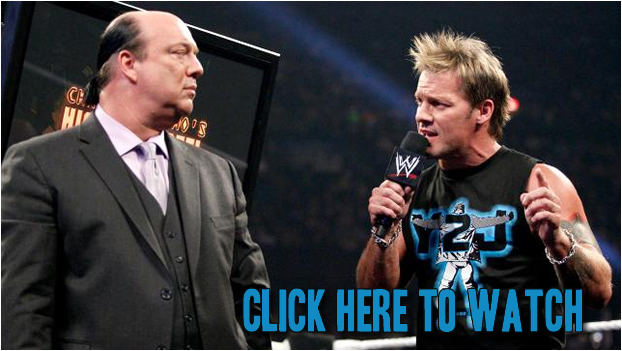 WE HERE AT THE HEYMAN HUSTLE HAVE ENSLAVED HIGHLY TRAINED
MONKEYS TO IGNORE THE FACT THEY ARE OVERWORKED AND UNDERPAID,
ALL IN THE NAME OF SCOURING THE WORLD WIDE WEB TO FIND THE FIFTEEN
MOST PROVOCATIVE STORIES ON THE INTERNET. ALL FOR YOU. NO ONE ELSE
BUT YOU. JUST YOU. AND ALL YOU NEED TO DO IS PICK WHICH PIC TO CLICK!