The Best in the World and our very own Hustler De Tuti Hustlers seem to be at odds over how to handle Alberto Del Rio and the World Heavyweight Championship … but the problems could run much deeper than that!
Last night, after CM PUNK DEFEATED CHRIS JERICHO AT WWE PAYBACK, an intriguing moment played out behind the scenes when CM PUNK HAD A DISCUSSION WITH PAUL HEYMAN that was captured by the cameras of WWE's website. And then came the 1st segment on WWE Monday Night RAW. There's trouble in paradise folks, as evidenced by the story on WWE.com:
GRAND RAPIDS, Mich. – For all his championship victories, Alberto Del Rio can't seem to catch a break when it comes to the post-title win fiesta. One night after his morally iffy reclamation of the Word Heavyweight Championship, Del Rio took the stage in Grand Rapids to the unmitigated disapproval of the WWE Universe. The crowd hadn't taken too kindly to Del Rio's winning strategy – kick the recently concussed Dolph Ziggler in the head, repeat – but he didn't seem to mind the opinion of a WWE Universe who he felt had disrespected him while he competed in their name.
But none took less kindly to the champion's posturing than CM Punk. The ragamuffin hero of the 312 didn't much appreciate Del Rio's claims of superiority (commandment one of the Cult of Personality: Thou shalt not name thyself "The best"), and wasted no time – despite Paul Heyman's unwelcome attempts to stop him – laying down a (non-title) challenge against Del Rio for later in the evening. And thanks to a quick ruling by Vickie Guerrero, the answer was a resounding Si! Si! Si!
CLICK HERE TO PURCHASE THE EXCLUSIVE BRAND NEW OFFICIAL CM PUNK "SECOND CITY SAINT" / "PAUL HEYMAN GUY" T-SHIRT COMBO!
Of course, we're HustleTweeting about CM Punk and Paul Heyman, and you're more than welcome to join the conversation by following us on twitter HERE or write us directly at hustleoncrave@gmail.com Hey, have you checked out the Hustle's Ultra High Quality You Tube Channel, with exclusive videos featuring OUR WORLD EXCLUSIVE WITH MIKE TYSON … BROCK LESNAR'S "HERE COMES THE PAIN" … ICE-T AND COCO's SEX SECRETS … TEEN SENSATION TAYLOR MOMSEN … UFC BAD BOY NICK DIAZ … THE WALKING RIOT MISSY HYATT if you're not subscribing, you're missing something … and by the ways cheapos, it's FREE! Yes, absolutely 100 percent FREE! What are you waiting for? Check it out HERE!
CLICK ON THE PICS BELOW FOR THE OFFICIAL PHOTO GALLERY FEATURING
CM PUNK, PAUL HEYMAN, ALBERTO DEL RIO AND RICARDO RODRIGUEZ!

CM PUNK AND PAUL HEYMAN DON'T APPEAR TO BE ON THE SAME PAGE!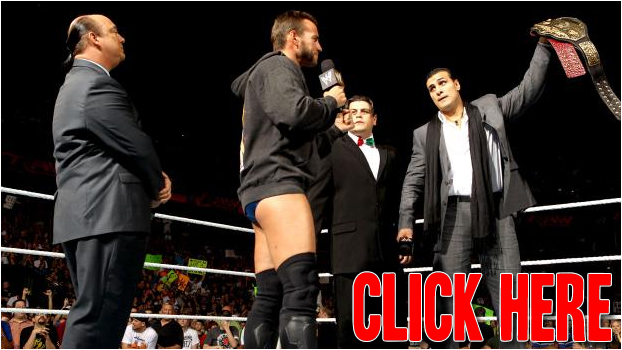 WE HERE AT THE HEYMAN HUSTLE HAVE ENSLAVED HIGHLY TRAINED
MONKEYS TO IGNORE THE FACT THEY ARE OVERWORKED AND UNDERPAID,
ALL IN THE NAME OF SCOURING THE WORLD WIDE WEB TO FIND THE FIFTEEN
MOST PROVOCATIVE STORIES ON THE INTERNET. ALL FOR YOU. NO ONE ELSE
BUT YOU. JUST YOU. AND ALL YOU NEED TO DO IS PICK WHICH PIC TO CLICK!