On the very first WWE Monday Night RAW after Brock Lesnar defeated CM Punk at SummerSlam, our very own Hustler De Tuti Hustlers shocks the world!
Is a reunion about to happen involving The Best in the World and our boss, Paul Heyman? In a shocking moment that sent the WWE Universe and our HustleTweeters into a tizzy, the unpredictable Hustler De Tuti Hustlers threw a curve ball that can completely change the course of WWE history
According to WWE.com:
Say what you will about him, but Paul Heyman is nothing if not gracious in victory. Having proven CM Punk wrong (however narrowly) thanks to Brock Lesnar's triumph at SummerSlam, the mad scientist proclaimed it "a time for forgiveness" and offered the proverbial olive branch to his former best friend. "When you apologize to me, I will take you back," promised Heyman, "because you know better than anyone else you are far better with me than without me."
Offering to take The Straight Edge Superstar to the promised land, the ECW founder swore to bring his prodigal son to the main event of WrestleMania and beyond, and to help Punk reclaim his chosen title of "Best in the World." A tantalizing offer. But will it be enough?
Of course, we're HustleTweeting about CM Punk, Paul Heyman and Brock Lesnar, and you're more than welcome to join us by following us on twitter HERE or write us directly at hustleoncrave@gmail.com Hey, have you checked out the Hustle's Ultra High Quality You Tube Channel, with exclusive videos featuring OUR WORLD EXCLUSIVE WITH MIKE TYSON … BROCK LESNAR'S "HERE COMES THE PAIN" … ICE-T AND COCO's SEX SECRETS … TEEN SENSATION TAYLOR MOMSEN … UFC BAD BOY NICK DIAZ … THE WALKING RIOT MISSY HYATT if you're not subscribing, you're missing something … and by the ways cheapos, it's FREE! Yes, absolutely 100 percent FREE! What are you waiting for? Check it out HERE!
CLICK ON THE PICS BELOW TO SEE THE ENTIRE OFFICIAL WWE PHOTO
GALLERY FEATURING PAUL HEYMAN'S OFFER OF FORGIVENESS TO CM PUNK!

PAUL HEYMAN: "CM PUNK, I FORGIVE YOU!"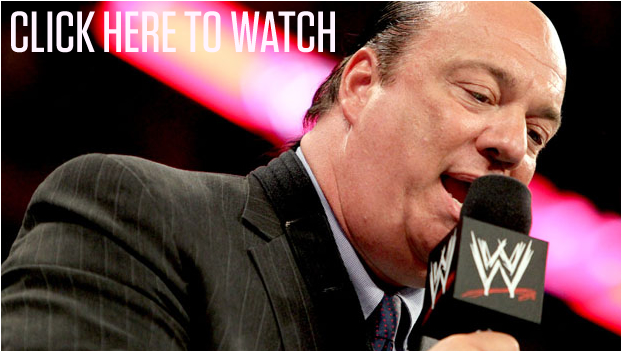 WE HERE AT THE HEYMAN HUSTLE HAVE ENSLAVED HIGHLY TRAINED
MONKEYS TO IGNORE THE FACT THEY ARE OVERWORKED AND UNDERPAID,
ALL IN THE NAME OF SCOURING THE WORLD WIDE WEB TO FIND THE FIFTEEN
MOST PROVOCATIVE STORIES ON THE INTERNET. ALL FOR YOU. NO ONE ELSE
BUT YOU. JUST YOU. AND ALL YOU NEED TO DO IS PICK WHICH PIC TO CLICK!