Our very own Hustler De Tuti Hustlers Paul Heyman signs the contract, and now Y2J will face The Best in the World on Sunday June 16th … in CM Punk's hometown of Chicago!
CM Punk will wrestle for the very first time since THE HISTORIC MATCH VERSUS THE UNDERTAKER AT WRESTLEMANIA XXIX when he makes his return in front of his hometown crowd in Chicago on Sunday, June 16th at WWE Payback! According to WWE.com:
With a stroke of his pen, Paul Heyman made it official for Chris Jericho: He has his match against CM Punk at WWE Payback in The Straight Edge Superstar's hometown of Chicago. Despite the mad scientist's protestations that the former WWE Champion would make a "liar" out of Jericho at Payback, The Ayatollah of Rock 'n' Rolla seemed anything but skittish at the prospect of facing the absentee Punk on his own home turf.
Not only that, but Y2J got a few laughs at Heyman's expense as well, rolling up the contract and depositing it down the front of the mad scientist's pants once pen had been put to paper. Needless to say, Jericho found all this quite amusing, as did the WWE Universe. Whether he's still smiling two weeks from now … well, that's the big question, isn't it?
CLICK HERE TO PURCHASE YOUR VERY OWN CM PUNK / "PAUL HEYMAN GUY" T-SHIRT PACKAGE!
Of course, we're HustleTweeting about The Return of CM Punk and you're more than welcome to join the conversation by following us on twitter HERE or write us directly at hustleoncrave@gmail.com Hey, have you checked out the Hustle's Ultra High Quality You Tube Channel, with exclusive videos featuring OUR WORLD EXCLUSIVE WITH MIKE TYSON … BROCK LESNAR'S "HERE COMES THE PAIN" … ICE-T AND COCO's SEX SECRETS … TEEN SENSATION TAYLOR MOMSEN … UFC BAD BOY NICK DIAZ … THE WALKING RIOT MISSY HYATT if you're not subscribing, you're missing something … and by the ways cheapos, it's FREE! Yes, absolutely 100 percent FREE! What are you waiting for? Check it out HERE!
CLICK ON THE PICS BELOW TO SEE THE ENTIRE WWE PHOTO GALLERY
FEATURING THE PAUL HEYMAN – CHRIS JERICHO CONTRACT SIGNING!

FORMER "PAUL HEYMAN GUY" CHRIS JERICHO SQUARES OFF
WITH OUR BOSS ON THE MIC DURING THE CONTRACT SIGNING!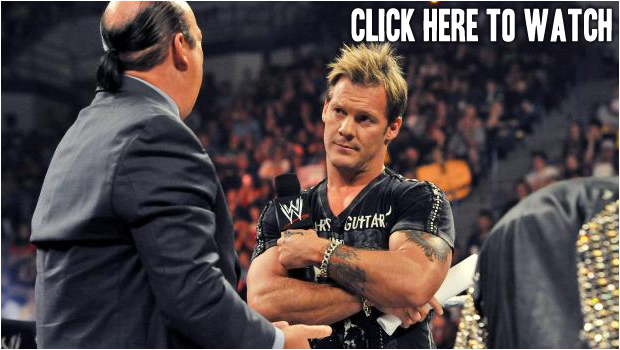 WE HERE AT THE HEYMAN HUSTLE HAVE ENSLAVED HIGHLY TRAINED
MONKEYS TO IGNORE THE FACT THEY ARE OVERWORKED AND UNDERPAID,
ALL IN THE NAME OF SCOURING THE WORLD WIDE WEB TO FIND THE FIFTEEN
MOST PROVOCATIVE STORIES ON THE INTERNET. ALL FOR YOU. NO ONE ELSE
BUT YOU. JUST YOU. AND ALL YOU NEED TO DO IS PICK WHICH PIC TO CLICK!