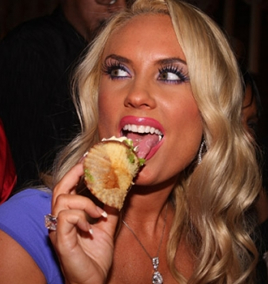 When the man our own Hustler De Tuti Hustlers Paul Heyman calls "The OG of Cool," Ice-T throws a birthday party for his wife, The Queen of the Badonkadonk Coco
, you know only the number one nightlife guru in New York City can handle the task. Once again this year, The First Couple of Hip Hop turned to the legendary Noel Ashman to throw the wildest b-day party on the Island of Manhattan!

CLICK HERE TO SEE ICE-T AND COCO CELEBRATING WITH LEGENDARY NYC NIGHTCLUB IMPRESSARIO NOEL ASHMAN!

CLICK HERE TO SEE WHY COCO'S TWITTER IS NICER THAN YOUR'S (NOT FOR THE WEAK OF HEART …THESE PHOTOGRAPHS ARE SERIOUSLY SEXY!

The star-studded event was held at the uber-trendy Hudson Eatery in Lower Manhattan. It was exactly two years ago when Ice and Coco appeared on a two-part episode of THE HEYMAN HUSTLE, and caused an international controversy with their comments on not only the then-pending Presidential Election, but also their sex secrets (which, incidentally, was a little trick that Ice does that Coco affectionately labeled "The Stroke")!

CLICK HERE FOR PART ONE OF ICE-T AND COCO BEING INTERVIEWED BY PAUL HEYMAN ON THE FIRST SEASON OF "THE HEYMAN HUSTLE!"

CLICK HERE FOR PART TWO OF ICE AND COCO ON "THE HEYMAN HUSTLE" SEASON ONE!

According to all reports, Ice-T's birthday for the now-31 year old Coco was a success, which means Ice gets to apply his stroke, and the world is a better place because of it.

I have no idea what that means.

But when envisioning Coco enjoying "The Stroke" (you really need to watch the episodes), it's just really hard to concentrate on what you're writing about.

You'll see.
CLICK ON THE PHOTOS BELOW TO SEE
THE ENTIRE GALLERY FROM ICE-T'S BIRTHDAY
BASH FOR HIS LOVELY BRIDE COCO!
---
AS THE PASSOVER AND EASTER HOLIDAYS COME TO PASS,
WE LOOK FORWARD TO A WEEK OF PURE DEBAUCHERY.
HEY, WHAT ARE WE, SAINTS? NO NEED TO SPEND YOUR
TIME SURFING THE WEB FOR STIMULATION, WE GOTCHA
BACK! ALL YOU NEED TO DO IS PICK A PIC AND CLICK!