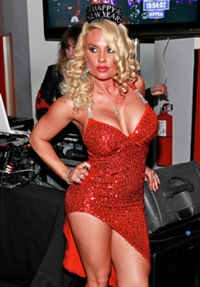 The First Couple of Hip Hop Party Like It's 2011 … um … wait … it IS Twenty Eleven!
The man our own Hustler De Tuti Hustlers Paul Heyman calls "The O.G. of Cool," Ice-T took out his glam-fab wife Coco for a night on the town to celebrate New Year's Eve, and of course the photogs went wild!
Ice and Coco hit up our friend Noel Ashman's New Year's Eve Party at the uber-chic nightclub Nuela in Manhattan, and while Ice is truly a music legend, we think even the Law and Order star would agree that all eyes were on Coco and her Jessica Rabbit dress!
CLICK HERE TO SEE THE TWO PART EPISODE OF "THE HEYMAN HUSTLE" WITH ICE-T AND COCO, TAPED AT NOEL ASHMAN'S LEGENDARY PLUMM NYC!
Let's talk about all the social networking available from this story, shall we?
You can follow New York City's Nightlife King Noel Ashman HERE
Cool enough to handle some Ice? The O.G. of Cool is on Twitter HERE
Coco, of course, has the world's hottest Twitter HERE
You can follow THE HEYMAN HUSTLE on Twitter HERE, and you can check out our YouTube Channel (highly recommended … and subscribing is not only appreciated, it's FREE!) HERE
CLICK ON THE PICS BELOW TO SEE THE ENTIRE GALLERY
FEATURING ICE AND COCO ON NEW YEAR'S EVE!

CLICK ON THE VIDEO
BELOW TO SEE ICE AND
COCO TALK ABOUT THE
SECRET OF THEIR SEX LIFE!

ICE-T TALKS MODERN DAY
HIP HOP VS ORIGINAL GANGSTA
RAP, AND COCO TALKS POLITICS.
WE'RE NOT KIDDING!

IT'S TIME FOR AN ALL NEW EDITION OF THE HOLLYWOOD CHARLIE
MEDIA WATCH, OUR DAILY TRAVEL ACROSS THE WORLD WIDE WEB.
OUR HIGHLY TRAINED MONKEYS HAVE PICKED OUT THE 15 WILDEST
STORIES FROM THE INTERNET FOR YOUR ASTUTE REVIEW. YOUR PART
IS VERY EASY. ALL YOU NEED TO DO IS PICK A PIC … AND CLICK!