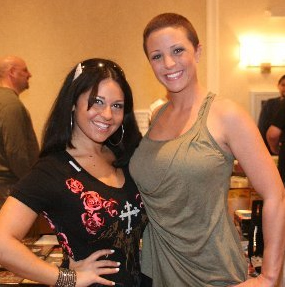 … with special guest Serena Deeb of WWE's Straight Edge Society!
Ay Yo!
Just when you were thinkin' it was copasetic to watch dat Joizee Shore show on MTV again, along comes deez new pics of Robbie E and OH! FUGGEDABOUTIT! JWOWW's arch enemy Cookie. Ya hear?
By da way, don't forget to check out dis story featuring OVER 140 EXCLUSIVE PICS OF THE JWOWW VS COOKIE CONFRONTATION YOU WON'T SEE ANYWHERE ELSE, INCLUDING THOSE HAMMERHEADS AT TMZ AND ALL DEM OTHER HOLLYWOOD BLOG WANNABES!
Our own Bob Mulrenin (YO! Big shout out to Brooklyn!) took these exclusive photos of Robbie E and Cookie, and is it our imagination or is Cookie barefoot? WTF, cuz?
Joining The First Couple of Da Shore is Serena Deeb, the healthy lunged former member of WWE's Straight Edge Society.
But before you check out da pics, here's a little business for us to handle.
It's time to follow THE HEYMAN HUSTLE on Twitter, which you can do HERE
We're waiting. Are you done?
OK, it's time for you to join the Hustle's very own ULTRA HIGH QUALITY YouTube CHANNEL, as well as checking out our old school social network platforms on FACEBOOK and MySPACE. Best part about it? It's all free. Free, we tell ya, FREE!
So, whaddya waitin' for?
Jeeeesh.
Fuggedaboutit!
CLICK ON THE PICS BELOW TO SEE THE ENTIRE GALLERY
FEATURING ROBBIE E, COOKIE, AND SERENA!

THE HEYMAN HUSTLE'S VERY OWN TRAINED MONKEYS ARE PROUD
TO PRESENT THE TOP 15 STORIES OF THE DAY, ALL CONVENIENTLY
LINKED HERE FOR YOUR REVIEW. NO NEED TO SURF THE WEB, WE
DID ALL THE HARD WORK FOR YOU. JUST PICK A PIC AND CLICK!