… and Chris Jericho scores the first pinfall on Curtis Axel of the "Perfect Paul Heyman Guy" Era!
It was a long night on WWE Monday Night RAW for our very own Hustler De Tuti Hustlers Paul Heyman and the Intercontinental Champion Curtis Axel, especially after THE CM PUNK – ALBERTO DEL RIO – PAUL HEYMAN INCIDENT ON SMACKDOWN LAST WEEK!
According to WWE.com:
Curtis Axel fancies himself as perfection, but he'll have to be a little bit better than that at Money in the Bank this Sunday after the Intercontinental Champion lost his focus – and his first match as a Paul Heyman Guy – against Chris Jericho on Raw. Axel was crisp in the early goings of the match against Y2J, countering the Codebreaker and successfully executing the Perfect Plex, but it was ultimately a mental error that led to Axel's loss.
With Jericho reeling, Axel took too long to taunt his opponent and Y2J capitalized, locking in the Walls of Jericho and later throwing Axel into the commentary booth. Given that The Miz was scouting the champion from ringside, this proved to be the deciding factor as the champion jaw-jacked with his contender for too long and walked unwittingly into a second Codebreaker once he rolled back into the ring at the beat-up Heyman's frantic behest. Call it almost perfect.
and you're more than welcome to join the conversation by following us on twitter HERE or write us directly at hustleoncrave@gmail.com Hey, have you checked out the Hustle's Ultra High Quality You Tube Channel, with exclusive videos featuring OUR WORLD EXCLUSIVE WITH MIKE TYSON … BROCK LESNAR'S "HERE COMES THE PAIN" … ICE-T AND COCO's SEX SECRETS … TEEN SENSATION TAYLOR MOMSEN … UFC BAD BOY NICK DIAZ … THE WALKING RIOT MISSY HYATT if you're not subscribing, you're missing something … and by the ways cheapos, it's FREE! Yes, absolutely 100 percent FREE! What are you waiting for? Check it out HERE!
CLICK ON THE PICS BELOW TO SEE THE ENTIRE OFFICIAL WWE PHOTO
GALLERY FEATURING CURTIS AXEL VS CHRIS JERICHO FROM RAW!

CURTIS AXEL SUFFERS HIS FIRST DEFEAT!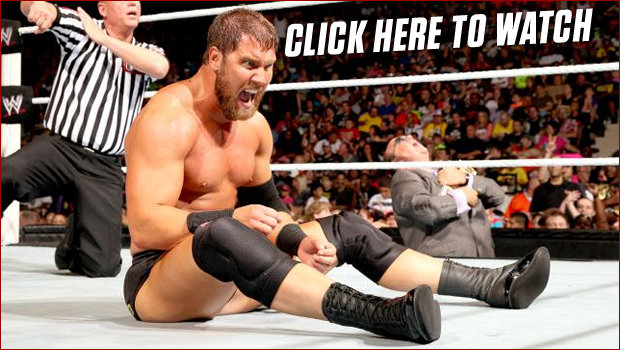 WE HERE AT THE HEYMAN HUSTLE HAVE ENSLAVED HIGHLY TRAINED
MONKEYS TO IGNORE THE FACT THEY ARE OVERWORKED AND UNDERPAID,
ALL IN THE NAME OF SCOURING THE WORLD WIDE WEB TO FIND THE FIFTEEN
MOST PROVOCATIVE STORIES ON THE INTERNET. ALL FOR YOU. NO ONE ELSE
BUT YOU. JUST YOU. AND ALL YOU NEED TO DO IS PICK WHICH PIC TO CLICK!