Our very own Hustler De Tuti Hustlers leads his new client to the ring against Triple H, as RAW ends on most memorable … and controversial note!
Curtis Axel spent his 1st night in the public eye as a Paul Heyman Guy in the main event of WWE Monday Night RAW, taking on Triple H in The Game's very first match on RAW in three years. According to WWE.com:
There are wins, and there are wins, and Curtis Axel certainly got the latter in his first contest under Paul Heyman's wing, and against Triple H no less. Not only did the revamped Superstar put up a strong fight against the 13-time World Champion, he did so in such a manner that The King of Kings had to stop competing altogether in his first Raw match in almost 3 years.
The young competitor got off to a rocky start against The Game, but Axel got his wheels rolling fast and ended up going tit-for-tat with The King of Kings, targeting The Game's injured jaw (a lingering effect from Brock Lesnar's sledgehammer strike the night before) and driving Triple H out of the ring. The King of Kings attempted to rally again, but couldn't bring himself to re-enter the fray, taking a seat at ringside before keeling over altogether as medical staff swarmed around him, giving Axel the win as a result.
So, to recap: Curtis Axel hails from a wrestling lineage unlike almost any other, and he exploited an injury to leave Triple H physically unable to compete in a bout in his very first foray into the ring with the mad scientist at his side. That sounds about right for a Paul Heyman guy.
CLICK HERE TO PURCHASE THE OFFICIAL "PAUL HEYMAN GUY" T-SHIRT!
Of course, we're talking about Curtis Axel's WWE Monday Night RAW Debut, and you're more than welcome to join join the conversation by following us on twitter HERE or write us directly at hustleoncrave@gmail.com Hey, have you checked out the Hustle's Ultra High Quality You Tube Channel, with exclusive videos featuring OUR WORLD EXCLUSIVE WITH MIKE TYSON … BROCK LESNAR'S "HERE COMES THE PAIN" … ICE-T AND COCO's SEX SECRETS … TEEN SENSATION TAYLOR MOMSEN … UFC BAD BOY NICK DIAZ … THE WALKING RIOT MISSY HYATT if you're not subscribing, you're missing something … and by the ways cheapos, it's FREE! Yes, absolutely 100 percent FREE! What are you waiting for? Check it out HERE!
By the way, we're also old school social networkers, so check out our interactive skills on Facebook HERE and even on MySpace HERE. If you're on Friendster, GFY … and have a pleasant tomorrow!
CLICK ON THE PICS BELOW TO SEE THE ENTIRE OFFICIAL WWE
GALLERY FEATURING CURTIS AXEL'S WWE RAW DEBUT VS TRIPLE H!

CURTIS AXEL …PAUL HEYMAN … TRIPLE H … AND A MOST CONTROVERSIAL
ENDING TO THIS WEEK'S EDITION OF WWE MONDAY NIGHT RAW!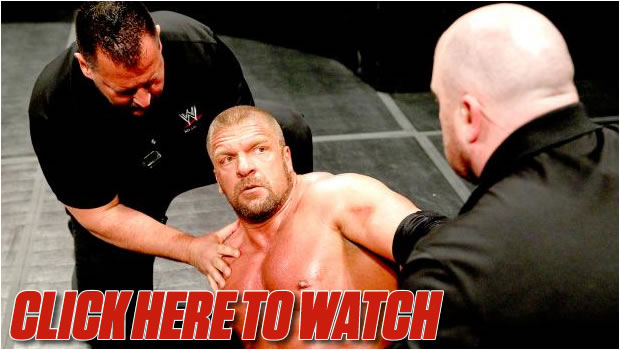 WE HERE AT THE HEYMAN HUSTLE HAVE ENSLAVED HIGHLY TRAINED
MONKEYS TO IGNORE THE FACT THEY ARE OVERWORKED AND UNDERPAID,
ALL IN THE NAME OF SCOURING THE WORLD WIDE WEB TO FIND THE FIFTEEN
MOST PROVOCATIVE STORIES ON THE INTERNET. ALL FOR YOU. NO ONE ELSE
BUT YOU. JUST YOU. AND ALL YOU NEED TO DO IS PICK WHICH PIC TO CLICK!