Our Very Own Hustler De Tuti Hustlers Leads His Newest Client Into Battle Against John Cena in a No Disqualification Match!
WWE Monday Night RAW was the scene of the rematch as the WWE Champion wanted to avenge the controversial ending to the match last week that saw CURTIS AXEL SCORE A COUNT OUT VICTORY OVER JOHN CENA! Earlier in the evening, WWE CHAIRMAN VINCE McMAHON MADE THIS MATCH A NO DISQUALIFICATION MATCH! So now the stage was set, as "Paul Heyman Guy" Curtis Axel went into battle with WWE Champion John Cena in a No Disqualification Match. According to WWE.com:
"Chekhov's Table" struck and Curtis Axel's winning streak continued in the finale of Raw when the third-generation prodigy clashed with the WWE Champion in a McMahon-mandated No Disqualification Match, riding an unlikely assist to another controversial victory. While Paul Heyman's newest prospect may be a Superstar of few words, he proved himself to be a competitor of considerable brutality, swinging a steel chair and showing shades of his father and grandfather in a strong, veteran-level effort against the Cenation leader.
A comeback from Cena nearly left Axel in splinters when he hoisted the Heyman Guy up for the Attitude Adjustment and made for one of Ryback's leftover tables, but a timely interference by Ryback himself liberated Axel from The Champ's clutches. Ryback made his second statement of the night, plowing Cena through the pine while Axel scrambled back to the ring to beat the ten-count. Heyman Guy, 3; future WWE Hall of Famers, 0.
CLICK HERE TO GET YOUR VERY OWN OFFICIAL "PAUL HEYMAN GUY" T-SHIRT!
Of course, we're HustleTweeting about Curtis Axel vs John Cena in a No Disqualification Match, and you're more than welcome to join the conversation by following us on twitter HERE or write us directly at hustleoncrave@gmail.com Hey, have you checked out the Hustle's Ultra High Quality You Tube Channel, with exclusive videos featuring OUR WORLD EXCLUSIVE WITH MIKE TYSON … BROCK LESNAR'S "HERE COMES THE PAIN" … ICE-T AND COCO's SEX SECRETS … TEEN SENSATION TAYLOR MOMSEN … UFC BAD BOY NICK DIAZ … THE WALKING RIOT MISSY HYATT if you're not subscribing, you're missing something … and by the ways cheapos, it's FREE! Yes, absolutely 100 percent FREE! What are you waiting for? Check it out HERE!
CLICK ON THE PICS BELOW TO SEE THE ENTIRE WWE PHOTO
GALLERY FEATURING "PAUL HEYMAN GUY" CURTIS AXEL VS JOHN CENA!

AMAZING HIGHLIGHTS OF CURTIS AXEL'S REMATCH VS JOHN CENA!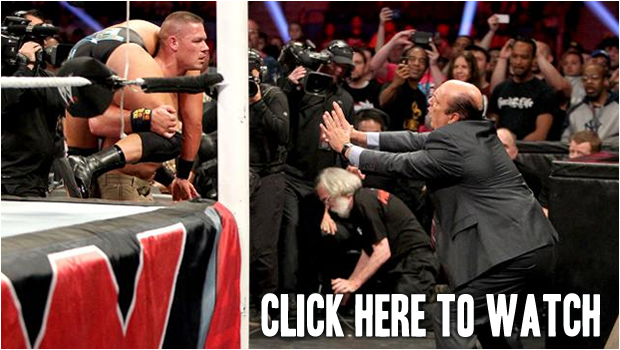 WE HERE AT THE HEYMAN HUSTLE HAVE ENSLAVED HIGHLY TRAINED
MONKEYS TO IGNORE THE FACT THEY ARE OVERWORKED AND UNDERPAID,
ALL IN THE NAME OF SCOURING THE WORLD WIDE WEB TO FIND THE FIFTEEN
MOST PROVOCATIVE STORIES ON THE INTERNET. ALL FOR YOU. NO ONE ELSE
BUT YOU. JUST YOU. AND ALL YOU NEED TO DO IS PICK WHICH PIC TO CLICK!