An amazing turn of events sees WWE Chairman Vincent Kennedy McMahon get involved in "Paul Heyman Guy" Curtis Axel's rematch with Triple H … and it only got crazier from there!
Curtis Axel's rise to the top of the WWE ladder under the tutelage of our very own Hustler De Tuti Hustlers Paul Heyman continued as Triple H opened up Monday Night RAW seeking revenge against Axel, only to see his father-in-law, WWE Chairman Vincent Kennedy McMahon come down to the ring and get into a public pissing contest with "The Game."
According to WWE.com:
RICHMOND, Va. – With WWE Payback only six days away, it appears that Triple H's own payback against Curtis Axel will have to wait a little while longer. The erstwhile COO of WWE has been spoiling for a fight against Paul Heyman's protégé ever since Axel's dubious debut under the Heyman banner, where lingering injuries from another Heyman client forced The King of Kings to forfeit his bout against Mr. Perfect's preening son.
But it appears that, despite the iron will of The King of Kings, the billion-dollar edict of Mr. McMahon still trumps all. The Game-Axel tilt barely even began before The Chairman made his presence known. Mr. McMahon promptly stopped the match and (despite Triple H's numerous attempts to subvert the power chain and reverse his father-in-law's decree), declaring Axel the winner via Disqualification and, later, Forfeit before absconding with the bell and microphone so as to prevent any technicality-fused resumption of the match by The Game, whose final attempt at initiating a 60-Minute Iron Man Match was dismissed with one brusque command from The Chairman's tongue.
Despite the lingering family strife from the previous week, however, a tentative rematch was ultimately offered for next week by Mr. McMahon, though The King of Kings had yet to accept by night's end.
CLICK HERE TO PURCHASE YOUR VERY OWN OFFICIAL "PAUL HEYMAN GUY" T-SHIRT!
Of course, we're HustleTweeting about Curtis Axel, and you're more than welcome to join the conversation by following us on twitter HERE or write us directly at hustleoncrave@gmail.com Hey, have you checked out the Hustle's Ultra High Quality You Tube Channel, with exclusive videos featuring OUR WORLD EXCLUSIVE WITH MIKE TYSON … BROCK LESNAR'S "HERE COMES THE PAIN" … ICE-T AND COCO's SEX SECRETS … TEEN SENSATION TAYLOR MOMSEN … UFC BAD BOY NICK DIAZ … THE WALKING RIOT MISSY HYATT if you're not subscribing, you're missing something … and by the ways cheapos, it's FREE! Yes, absolutely 100 percent FREE! What are you waiting for? Check it out HERE!
CLICK ON THE PICS BELOW TO SEE THE ENTIRE OFFICIAL WWE PHOTO
GALLERY FEATURING CURTIS AXEL, PAUL HEYMAN, TRIPLE H AND VINCENT
KENNEDY McMAHON FROM THE WILD OPENING TO MONDAY NIGHT RAW!

CHECK OUT THE AMAZING HIGHLIGHTS OF CURTIS AXEL VS TRIPLE H!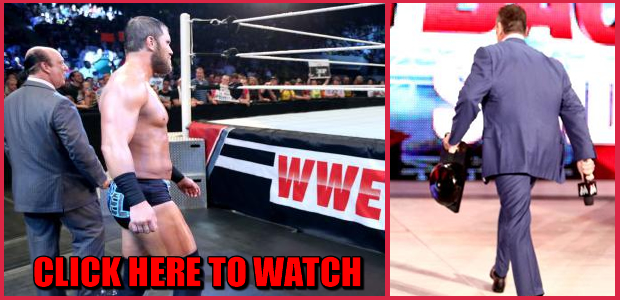 WE HERE AT THE HEYMAN HUSTLE HAVE ENSLAVED HIGHLY TRAINED
MONKEYS TO IGNORE THE FACT THEY ARE OVERWORKED AND UNDERPAID,
ALL IN THE NAME OF SCOURING THE WORLD WIDE WEB TO FIND THE FIFTEEN
MOST PROVOCATIVE STORIES ON THE INTERNET. ALL FOR YOU. NO ONE ELSE
BUT YOU. JUST YOU. AND ALL YOU NEED TO DO IS PICK WHICH PIC TO CLICK!