With all the controversy surrounding our very own Hustler De Tuti Hustlers and The Best in The World, it was time for Intercontinental Champion Curtis Axel to take some of the spotlight for himself!
Curtis Axel kept his concentration and soundly defeated Sin Cara despite the fact RAW has become home to THE GROWING TENSION BETWEEN CM PUNK AND PAUL HEYMAN! The brand new Intercontinental Champion (due to A PERFECTLY EXECUTED VICTORY AT WWE PAYBACK) appeared on RAW and sent a message to any future challengers. According to WWE.com:
It's only fitting that an Intercontinental Champion should make his mark against an international sensation, and Curtis Axel kicked his reign off on a strong foot when he defeated Sin Cara in his first match with the coveted title. Bathed in the orange glow of Sin Cara's signature lighting and with The Miz watching on commentary, Axel used his old-school grit to tough out the acrobatics of The Mexican Superstar, thwarting Sin Cara's senton with knees to the back of the head and executing a picture-perfect DDT to claim the victory. It was a solid win if there ever was one, but given Miz's presence, Axel's most awesome challenge may yet be on the horizon.
Of course, we're HustleTweeting about Intercontinental Champion Curtis Axel, and you're more than welcome to join the conversation by following us on twitter HERE or write us directly at hustleoncrave@gmail.com Hey, have you checked out the Hustle's Ultra High Quality You Tube Channel, with exclusive videos featuring OUR WORLD EXCLUSIVE WITH MIKE TYSON … BROCK LESNAR'S "HERE COMES THE PAIN" … ICE-T AND COCO's SEX SECRETS … TEEN SENSATION TAYLOR MOMSEN … UFC BAD BOY NICK DIAZ … THE WALKING RIOT MISSY HYATT if you're not subscribing, you're missing something … and by the ways cheapos, it's FREE! Yes, absolutely 100 percent FREE! What are you waiting for? Check it out HERE!
CLICK ON THE PICS BELOW TO SEE THE ENTIRE OFFICIAL WWE
PHOTO GALLERY FEATURING IC CHAMPION CURTIS AXEL VS SIN CARA!

HERE IT IS! THE CURTIS AXEL VS SIN CARA HIGHLIGHT REEL FROM RAW!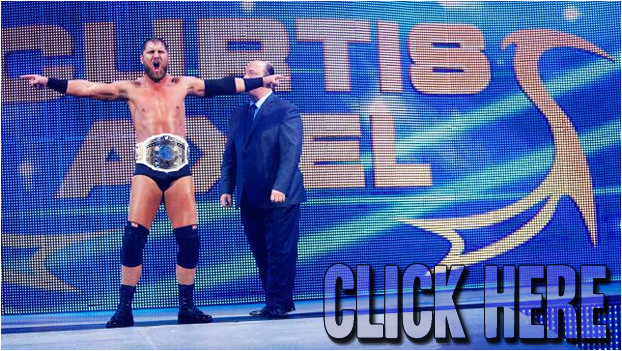 WE HERE AT THE HEYMAN HUSTLE HAVE ENSLAVED HIGHLY TRAINED
MONKEYS TO IGNORE THE FACT THEY ARE OVERWORKED AND UNDERPAID,
ALL IN THE NAME OF SCOURING THE WORLD WIDE WEB TO FIND THE FIFTEEN
MOST PROVOCATIVE STORIES ON THE INTERNET. ALL FOR YOU. NO ONE ELSE
BUT YOU. JUST YOU. AND ALL YOU NEED TO DO IS PICK WHICH PIC TO CLICK!