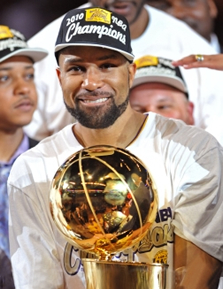 His crucial shot may just have clinched the NBA Championship for the LA Lakers. Derek Fisher is on top of the world right now, and just one of the many celebrities in town this week in Las Vegas, as the heat gets turned up in Sin City for UFC 116 Fight Week.
Derek and his wife Candace entered the nightclub to an enormous ovation, and Fisher could hardly control his enthusiasm when he got on the house mic to welcome everyone to the Tao nightclub. Fisher couldn't stop talking about the food he got at the Asian Bistro before coming into the club, where DJ Ross One played a Laker mash up of the LMFAO song "Shots" as trophy shaped cake from Gimme Some Sugar in Vegas was brought out for the point guard. The cake, by the way, was f'n delicious. Not that we snuck a finger full or anything like that. Who? We Hustlers? Nah, never!
CLICK ON THE PICS BELOW TO SEE THE ENTIRE GALLERY OF LA LAKERS POINT GUARD DEREK FISHER'S VICTORY CELEBRATION AT TAO!

THE HEYMAN HUSTLE'S VERY OWN TRAINED MONKEYS ARE PROUD
TO PRESENT THE TOP 15 STORIES OF THE DAY, ALL CONVENIENTLY
LINKED HERE FOR YOUR REVIEW. NO NEED TO SURF THE WEB, WE
DID ALL THE HARD WORK FOR YOU. JUST PICK A PIC AND CLICK!