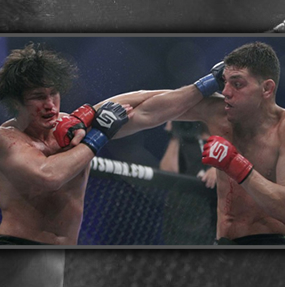 Grudge Rematch Lives Up To The Hype … And More!
Strikeforce returned home to the HP Pavilion tonight, and once again the San Jose audience was witness to one of the best MMA shows of the entire year!

In the main event, Strikeforce Welterweight Champion Nick Diaz retained his championship in a 5 Round unanimous decision over KJ Noons, 48-47, 49-47, 49-46. Early reports from the bloody brawl have Noons suffering both a broken jaw and a broken left hand.

CLICK HERE TO SEE NICK DIAZ ON SEASON TWO – EPISODE ONE OF "THE HEYMAN HUSTLE" IN ULTRA-HIGH-QUALITY FROM THE HUSTLE'S BRAND NEW YouTube CHANNEL!

In other huge news, Josh Thomson scored a controversial 3 Round unanimous decision over Gesias "JZ" Cavalcante, 29-28, 29-28, 30-27. On THE HEYMAN HUSTLE TWITTER PAGE, our own Hustler De Tuti Hustlers Paul Heyman made the following comments:

I thought Thomson vs Cavalcante was a great fight, but … I would have given the victory to Cavalcante by a point. Very close, and you can't say Thomson didn't deserve it. Perhaps even a draw would have been appropriate. I just thought Cavalcante dominated Thomson more than the other way around. BUT … I am far from the foremost expert on judging, and I am only offering one person's opinion. I have made a career out of offering an opinion, but I'm not a judge and I'm not qualified to be one. So… I think it was an epic fight, and I'd love to see a Thomson and Cavalcante rematch!

Marloes Coenen Defated Sarah Kaufman via submission to an Armbar at 1:59 into the 3rd Round to capture the Strikeforce 135-pound Womens' Title.

The impressive Tyron Woodley Defeated Andre Galvao via Knockout at 1:28 into the 1st Round.

In the preliminary fights, Jess Bouscal Defeated Luis Mendoza via Submission to the Arm-Triangle Choke at 3:00 in the 2nd Round; Josh MacDonald Defeated Ron Keslar via Unanimous Decision, 29-28, 29-28, 29-28; James Terry Defeated David Marshall via Unanimous Decision with scores of 30-27, 30-27, 30-26.
CLICK ON THE PICS BELOW TO SEE THE ENTIRE GALLERY
OF NICK DIAZ VS KJ NOONS IN THE MAIN EVENT OF STRIKEFORCE
ON SHOWTIME, SATURDAY NIGHT OCTOBER 9th, 2010!

THE HEYMAN HUSTLE'S VERY OWN TRAINED MONKEYS ARE PROUD
TO PRESENT THE TOP 15 STORIES OF THE DAY, ALL CONVENIENTLY
LINKED HERE FOR YOUR REVIEW. NO NEED TO SURF THE WEB, WE
DID ALL THE HARD WORK FOR YOU. JUST PICK A PIC AND CLICK!