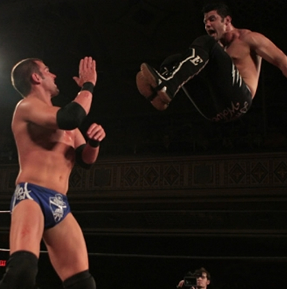 Famed Pro Wrestling Photographer George Tahinos Captures A Historic Moment in Ring of Honor!
The Manhattan Center Grand Ballroom was the original home of WWE Chairman Vince McMahon's daring concept called Monday Night Raw. On Saturday night, history was once again made in that very same room when Eddie Edwards defeated Roderick Strong to become the new Ring Of Honor World Heavyweight Champion.
Edwards first achieved notoriety as the tag team partner of Davey Richards. Together, they were known as The American Wolves, but they split up in 2010 to pursue individual goals. Many longtime ROH followers thought it would be Richards who would become the next champion, but Edwards beat his former partner to the top of ROH.
In a match many have been comparing to the Ric Flair – Ronnie Garvin "chop fests" in 1987, Strong and Edwards put on a classic match in front of the New York City crowd, which exploded when the pinfall took place.
ROH returns to NYC on June 26th to the Hammerstein Ballroom, home of the ECW One Night Stand pay per view in 2005 and 2006, with what is being called the biggest show in Ring Of Honor history.
Want to discuss this story? Join the conversation by following THE HEYMAN HUSTLE on Twitter HERE or write to us at hustleoncrave@gmail.com
You can also subscribe (for FREE, cheapos, absolutely FREE) to our Ultra High Quality YouTube Channel HERE, and don't forget to check out our old school social networking skills by visiting us on Facebook HERE and even on MySpace HERE
CLICK ON THE PICS BELOW TO SEE THE ENTIRE EXCLUSIVE PHOTO
GALLERY OF EDDIE EDWARDS' HISTORIC ROH TITLE VICTORY IN NYC!

IT'S TIME FOR AN ALL NEW EDITION OF THE HOLLYWOOD CHARLIE
MEDIA WATCH, OUR DAILY TRAVEL ACROSS THE WORLD WIDE WEB.
OUR HIGHLY TRAINED MONKEYS HAVE PICKED OUT THE 15 WILDEST
STORIES FROM THE INTERNET FOR YOUR ASTUTE REVIEW. YOUR PART
IS VERY EASY. ALL YOU NEED TO DO IS PICK A PIC … AND CLICK!