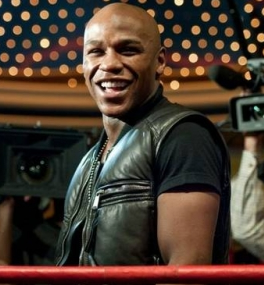 Floyd "Money" Mayweather and "Sugar" Shane Mosley are letting the barbs fly, and the fists will be flying this Saturday night when the two meet in the boxing ring at MGM Grand Garden Arena in Las Vegas in what could be the biggest pay per view event of the year.
THE HEYMAN HUSTLE was on hand for Wednesday's press conference in Las Vegas, and both men had plenty to say.

"We don't know how many fights he fought clean," Mayweather (40-0, 25 knockouts) said, bringing up Mosley's 2003 use of performance-enhancing drugs.

But Mosley had words of his own. "Mayweather deserves credit for taking this chance," Sugar Shane bragged, and he's a bad dude. Mosley is 46-5, with 39 knockouts.
"It's not my fault I dominate," Floyd smiled, "If I had been in a bunch of wars, I wouldn't be here talking to you guys anymore."
"He deserves props," Mosley said. "Maybe he's decided this is the right time to take this kind of fight."
Mosley also revealed that the independent anti-doping protocol that Mayweather insisted upon for this boxing match, which have been performed by the U.S. Anti-Doping Agency, has subjected him to four blood draws and eight urine tests.
"Eight times, that's a bit excessive, but I like this," Mosley laughed out loud, "Hey, I'm a clean fighter."

The HBO 24/7 series, long heralded as the best promotional vehicle in sports, has been stellar in the buildup to this fight, and experts are now predicting a monster buy rate.

And, by the way, a damn good fight!
CLICK ON THE PHOTOS BELOW TO SEE THE ENTIRE
GALLERY OF FLOYD MAYWEATHER'S MEDIA DAY IN VEGAS!
---
THE HEYMAN HUSTLE WISHES TO EXPRESS OUR SINCERE
APPRECIATION TO OUR OVERWORKED UNDERPAID TRAINED
MONKEYS FOR PICKING OUT THE TOP 15 STORIES OF THE DAY
FOR YOUR REVIEW. ALL YOU NEED TO DO IS PICK A PIC AND CLICK!