Money May Hypes His Cinco De Mayo Showdown Against The Puerto Rican Fighter with a World of Momentum on His Side!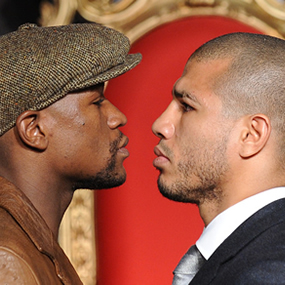 Money May Hypes His Cinco De Mayo Showdown Against The Puerto Rican Fighter with a World of Momentum on His Side!
Floyd Mayweather Jr. and Miguel Cotto took their promotional tour on the road this week, and the May 5th opponents ended up at Grauman's Chinese Theatre in LA, just a few short blocks away from where Manny Pacquiao trains under Wild Card Gym boxing legend Freddie Roach. But Money May shrugged off any talk of Pacquiao and instead hyped up the Puerto Rican sensation for their upcoming battle on pay per view.
"My job is not to worry about other fighters," the undefeated Mayweather stated. "My job is to fight the guy in front of me."
Mayweather ripped Pacquiao in previous weeks and previous promotional stops after he failed to reach a deal with the Filipino congressman for the fight every expert can agree has the potential to be the biggest money making contest in pro boxing history.
"I'm just thankful for where I'm at today in this sport," Mayweather said. "I've lasted a long time in this sport by being sharp, having tremendous defense. Whatever his great attributes are, I have to do what I do best."
Mayweather and Cotto will fight for Cotto's WBA 154-pound belt on Cinco de Mayo at the MGM Grand Garden in Las Vegas. Saul "Canelo" Alvarez and Sugar Shane Mosley, who will fight on the undercard, joined Mayweather and Cotto on the theatre stage.
"I look at Miguel Cotto as an undefeated fighter, because Miguel Cotto fought one fighter at a catch weight to where he wasn't full strength," Mayweather said, referring to the 145-pound weight limit for Cotto's loss to Pacquiao. "Same with Oscar De La Hoya (who also cut down to 145 pounds to fight Pacquiao). I don't want to fight a guy at a catch weight. I want to fight a guy at 154. He's solid, he can eat, he feels good, and he can go out there and perform at his best."
Mayweather believes Cotto learned from watching him at the Top Rank Gym.
"I think Miguel Cotto has been watching me for a very, very long time," Mayweather said. "Miguel Cotto had a chance to sit at the Top Rank (gym) when we both were fighters at Top Rank, and he used to sit right there and watch me train every day, watch me box. Even some of his movement, I see it comes from me. I'm thankful that fighters can pick up stuff from me and use it and be successful. He's a solid guy. He's a good fighter."
CLICK HERE FOR A MUST-SEE VIDEO STARRING FLOYD MAYWEATHER AND FIFTY CENT!
CLICK HERE TO READ ALL ABOUT FLOYD MAYWEATHER'S CONTROVERSIAL COMMENTS REGARDING NEW YORK KNICKS' OVERNIGHT SENSATION JEREMY LIN!
"I'm not fighting Jeremy Lin," Mayweather said with a laugh. "I thought, in this country, you had freedom of speech. They failed to realize that I said he was a good player."
Mayweather could go on for days with his unique brand of humble-braggadocio, but the rest of the year will be busy for the champion, who turned 35 last Friday. After this fight, he's expected to spend June and July in a Nevada jail to resolve a domestic violence case, and he sounds interested in being in the ring more frequently in the next few years after fighting just five times in the last half-decade.
"It's amazing to be at 35 and still be at the top of the sport and get nine-figure deals," Mayweather said. "It's truly amazing. It's a puzzle … I'm just the centerpiece."
We're HustleTweeting about Mayweather vs Cotto, and you're more than welcome to join the conversation by following THE HEYMAN HUSTLE on Twitter HERE or write to us directly at hustleoncrave@gmail.com
Hey, have you checked out the Hustle's Ultra High Quality You Tube Channel, with exclusive videos featuring BROCK LESNAR'S "HERE COMES THE PAIN" … ICE-T AND COCO's SEX SECRETS … THE ULTIMATE WELTERWEIGHT BAD ASS NICK DIAZ … CONTROVERSIAL TEEN SENSATION TAYLOR MOMSEN … LEGENDARY MMA PIONEER FRANK SHAMROCK … THE WALKING RIOT MISSY HYATT … if you're not subscribing, you're missing something … and by the ways cheapos, it's FREE! Yes, absolutely 100 percent FREE! What are you waiting for? Check it out HERE!
By the way, we're also old school social networkers, so check out our interactive skills on Facebook HERE and even on MySpace HERE. If you're on Friendster, GFY … and have a pleasant tomorrow!
CLICK ON THE PICS BELOW TO SEE THE ENTIRE GALLERY FROM THE
FLOYD MAYWEATHER – MIGUEL COTTO PRESS CONFERENCE IN L.A.!

IT'S TIME FOR AN ALL NEW EDITION OF THE HOLLYWOOD CHARLIE
MEDIA WATCH, OUR DAILY TRAVEL ACROSS THE WORLD WIDE WEB.
OUR HIGHLY TRAINED MONKEYS HAVE PICKED OUT THE 15 WILDEST
STORIES FROM THE INTERNET FOR YOUR ASTUTE REVIEW. YOUR PART
IS VERY EASY. ALL YOU NEED TO DO IS PICK A PIC … AND CLICK!