The World's Hottest Greek-Irish Hustle Hottie Makes The Case By Skipping Ropes in Her Salpas!
We admit it. One of the mission statements we've been given by our own Hustler De Tuti Hustlers Paul Heyman is to write relevant, contemporary, newsworthy stories about the absolute most beautiful women on the face of the planet.
Whether it's ADRIANA LIMA ANNOUNCING HER SECOND PREGNANCY or covering the every movement of THE AWESOME AUSSIE MIRANDA KERR, we keep up with the uber-hotties who raise the World Libido Index by double digits.
Then, Georgia Salpa exploded on the scene. The TABLOID SENSATION who can send shockwaves around the globe simply by WEARING A TIGHT WHITE T-SHIRT TO A NIGHTCLUB has been featured more than any other super model on the Hustle this year, with amazingly sexy stories about her HERE … HERE … and HERE! Georgia is currently in the running for FHM's Sexiest Woman in the World contest, and she really wants your vote. So much so, it must be stated, that she taped a video skipping rope in her barely-theres just to get your attention.
She certainly has gotten ours!
CLICK HERE TO VOTE FOR UK REALITY SUPERSTAR AND GREEK-IRISH HUSTLE HOTTIE GEORGIA SALPA AS FHM'S SEXIEST WOMAN IN THE WORLD!
Of course, we're HustleTweeting about Georgia Salpa's rise to fame, and you're more than welcome to join the conversation by following THE HEYMAN HUSTLE on Twitter HERE or write to us directly at hustleoncrave@gmail.com Hey, have you checked out the Hustle's Ultra High Quality You Tube Channel, with exclusive videos featuring BROCK LESNAR'S "HERE COMES THE PAIN" … ICE-T AND COCO's SEX SECRETS … THE ULTIMATE WELTERWEIGHT BAD ASS NICK DIAZ … CONTROVERSIAL TEEN SENSATION TAYLOR MOMSEN … LEGENDARY MMA PIONEER FRANK SHAMROCK … THE WALKING RIOT MISSY HYATT … if you're not subscribing, you're missing something … and by the ways cheapos, it's FREE! Yes, absolutely 100 percent FREE! What are you waiting for? Check it out HERE!
By the way, we're also old school social networkers, so check out our interactive skills on Facebook HERE and even on MySpace HERE. If you're on Friendster, GFY … and have a pleasant tomorrow!
CHECK OUT GEORGIA SALPA SKIPPING ROPE JUST FOR YOU … AND ENJOY!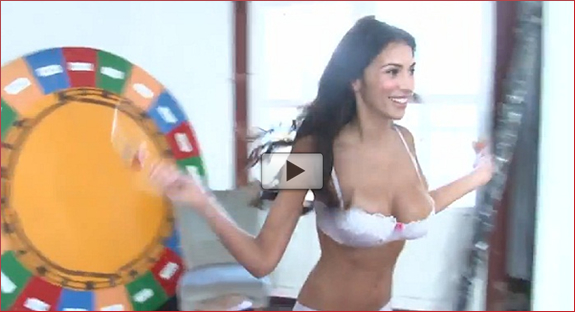 IT'S TIME FOR AN ALL NEW EDITION OF THE HOLLYWOOD CHARLIE
MEDIA WATCH, OUR DAILY TRAVEL ACROSS THE WORLD WIDE WEB.
OUR HIGHLY TRAINED MONKEYS HAVE PICKED OUT THE 15 WILDEST
STORIES FROM THE INTERNET FOR YOUR ASTUTE REVIEW. YOUR PART
IS VERY EASY. ALL YOU NEED TO DO IS PICK A PIC … AND CLICK!