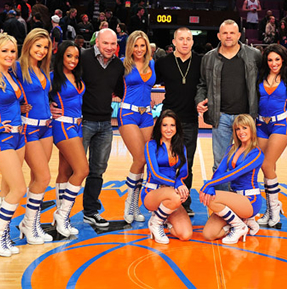 UFC Checks Out The World's Most Famous Arena!
UFC President Dana White was joined by Ultimate Fighting Legend "The Iceman" Chuck Liddell and current World Welterweight Champion Georges St-Pierre courtside as The New York Knicks played the Memphis Grizzlies at Madison Square Garden in New York City.
The UFC crew is in town for UFC 128 tomorrow night at the Prudential Center in Newark, New Jersey.
Our own Hustler De Tuti Hustlers Paul Heyman stated on THE HEYMAN HUSTLE TWITTER PAGE
today, "one day it'll be the Knicks watching UFC at MSG!"
You can read that tweet HERE
You can see the pics of Dana, Chuck, and GSP HERE
JUST IN CASE YOU MISSED IT …
CLICK ON THE PICS BELOW TO SEE LINDSAY LOHAN'S LEATHER PANTS
OUTFIT AT THE NY KNICKS BASKETBALL GAME AT MSG!

IT'S TIME FOR AN ALL NEW EDITION OF THE HOLLYWOOD CHARLIE
MEDIA WATCH, OUR DAILY TRAVEL ACROSS THE WORLD WIDE WEB.
OUR HIGHLY TRAINED MONKEYS HAVE PICKED OUT THE 15 WILDEST
STORIES FROM THE INTERNET FOR YOUR ASTUTE REVIEW. YOUR PART
IS VERY EASY. ALL YOU NEED TO DO IS PICK A PIC … AND CLICK!