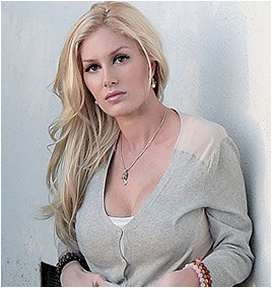 It's a crazy day here at the offices of Looking For Larry Productions (parent company for THE HEYMAN HUSTLE), as our own Hustler De Tuti Hustlers has stopped by our little HustleTweet Command Center, and decided to sit at the keyboards for a few minutes.
CLICK HERE TO FOLLOW OUR LIVE HUSTLETWEETING RIGHT NOW!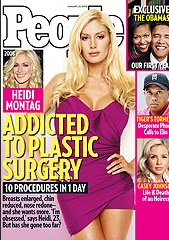 Besides answering some controversial questions sent in from the Hustlers, Paul also decided to comment on all things pop culture, including a rather scathing review of Heidi Montag's recent decision to not only go under the plastic surgery knife for a second time, but to have an astounding 10 procedures done at once!
Heidi's plastic transformation was documented in her rather scary interview this week in People Magazine,in which she not only declares she's obsessed with plastic surgery,
Our friends at The Sun reported that Heidi commented her triple D boobs (which are also known as "F" cups) still aren't big enough.
"I like the F. I actually want H for Heidi," Ms.Montag-Spratt stated. Work on the 23-year-old blonde also included buttock augmentation, neck liposuction, brow lift, chin reduction, Botox in her forehead and fat injected into her cheeks, mouth area and lips. She added: "I look like an improved version of myself."
The pics begin HERE
You can keep up with Paul's HustleTweeting Live HERE
---
SHED NO TEARS FOR CONAN
HE'S GETTING A LOAD OF CASH
HE'S GONNA TAKE A VACATION
AND SMOKE A LOTTA HASH

MEANWHILE, OUR STONED TRAINED MONKEYS
HAVE PUT THESE LINKS OUT, TOO
WE HOPE THAT YOU'LL ENJOY THEM
BUT THE PIC YOU CLICK IS UP TO YOU!