HUSTLE EXCLUSIVE!
We here at THE HEYMAN HUSTLE have spent the past month gathering all the HustleTweets and emails we've been sent with photos and videos from our very own Hustler De Tuti Hustlers Paul Heyman versus Ryback on December 27, 2012 at The World's Most Famous Arena, Madison Square Garden in New York City.
Special thanks to Digital Charlie, @JerseyViper, @NTenebruso, @Michele78, @MsBiRacialAngel, and Bob Mulrenin for contributing to this story with their photos and videos. We hope you'll enjoy re-living this spectacle from Midtown Manhattan as much as we have!
Just as a quick disclaimer, we're not posting these photos to remind our boss of the beating he took in Madison Square Garden, the arena he Hustled his way into as a mere teen, and actually got paid (now THAT is a true Hustler!) by Vince McMahon Senior. We're posting these videos and photos to document history, and actually send this story out as an expression of out pride for the man who employs us. Or, um, something like that.
CLICK HERE FOR THE #PaulHeymanGuy / BROCK LESNAR T-SHIRT COMBO SPECIAL OFFER!
CLICK HERE FOR THE #PaulHeymanGuy / CM PUNK T-SHIRT COMBO SPECIAL OFFER!
Of course, we're HustleTweeting about Paul Heyman vs Ryback from Madison Square Garden, and you're more than welcome to join the conversation by following us on twitter HERE or write us directly at hustleoncrave@gmail.com Hey, have you checked out the Hustle's Ultra High Quality You Tube Channel, with exclusive videos featuring OUR WORLD EXCLUSIVE WITH MIKE TYSON … BROCK LESNAR'S "HERE COMES THE PAIN" … ICE-T AND COCO's SEX SECRETS … TEEN SENSATION TAYLOR MOMSEN … UFC BAD BOY NICK DIAZ … THE WALKING RIOT MISSY HYATT if you're not subscribing, you're missing something … and by the ways cheapos, it's FREE! Yes, absolutely 100 percent FREE! What are you waiting for? Check it out HERE!
By the way, we're also old school social networkers, so check out our interactive skills on Facebook HERE and even on MySpace HERE. If you're on Friendster, GFY … and have a pleasant tomorrow!
CLICK ON THE PICS BELOW TO SEE THE ENTIRE EXCLUSIVE PHOTO GALLERY
OF PAUL HEYMAN vs RYBACK FROM MADISON SQUARE GARDEN 12/27/12!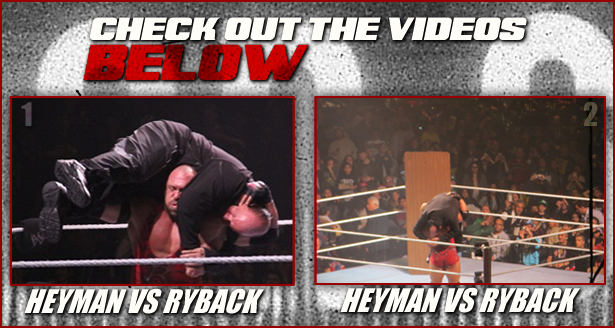 WE HERE AT THE HEYMAN HUSTLE HAVE ENSLAVED HIGHLY TRAINED
MONKEYS TO IGNORE THE FACT THEY ARE OVERWORKED AND UNDERPAID,
ALL IN THE NAME OF SCOURING THE WORLD WIDE WEB TO FIND THE FIFTEEN
MOST PROVOCATIVE STORIES ON THE INTERNET. ALL FOR YOU. NO ONE ELSE
BUT YOU. JUST YOU. AND ALL YOU NEED TO DO IS PICK WHICH PIC TO CLICK!