Official Photos and Video! Our very own Hustler De Tuti Hustlers appears via satellite on WWE Monday Night RAW, and gets interrupted by Triple H … who issues a most interested challenge!
The fallout continues from BROCK LESNAR'S INVASION OF WWE WORLD HEADQUARTERS! Our boss, Paul Heyman justified Brock Lesnar's decision to trash Triple H's corporate office, and then all Hell broke loose as "The Game" came out to the ring and issued a challenge for next week's RAW!
According to WWE.com:
Brock Lesnar is better versed than most in the ways of wanton destruction, but "The Beast Incarnate" may have one-upped himself earlier today when he paid an unannounced visit to WWE HQ alongside Paul Heyman for some vague, nefarious purposes that kept the desk-dwelling denizens of Titan Tower on their toes for the majority of the day.
Turns out, as Paul Heyman revealed via satellite, Lesnar had come to confront Triple H in his office. But with the COO absent and unable to fight, The Anomaly settled for some impromptu remodeling and laid waste to The Game's workspace with a sledgehammer, threatening WWE employees in the process. Still, Lesnar's volcanic case of the Mondays wasn't the end of the matter, as Triple H himself arrived to respond to the invasion before Heyman could even finish his story. With Heyman untold miles away, another incident between The Game and the mad scientist was unlikely. But The King of Kings did issue an open invite for Heyman and Lesnar to meet him face to face in his "other" office: the ring.
CLICK HERE TO PURCHASE THE OFFICIAL BROCK LESNAR / PAUL HEYMAN T-SHIRT COMBO!
Of course, we're HustleTweeting about Brock Lesnar vs Triple H at WWE Extreme Rules, and you're more than welcome join the conversation by following us on twitter HERE or write us directly at hustleoncrave@gmail.com Hey, have you checked out the Hustle's Ultra High Quality You Tube Channel, with exclusive videos featuring OUR WORLD EXCLUSIVE WITH MIKE TYSON … BROCK LESNAR'S "HERE COMES THE PAIN" … ICE-T AND COCO's SEX SECRETS … TEEN SENSATION TAYLOR MOMSEN … UFC BAD BOY NICK DIAZ … THE WALKING RIOT MISSY HYATT if you're not subscribing, you're missing something … and by the ways cheapos, it's FREE! Yes, absolutely 100 percent FREE! What are you waiting for? Check it out HERE!
By the way, we're also old school social networkers, so check out our interactive skills on Facebook HERE and even on MySpace HERE. If you're on Friendster, GFY … and have a pleasant tomorrow!
CLICK ON THE PICS BELOW FOR THE OFFICIAL WWE PHOTOS!

TRIPLE H RESPONDS TO BROCK LESNAR AND PAUL HEYMAN!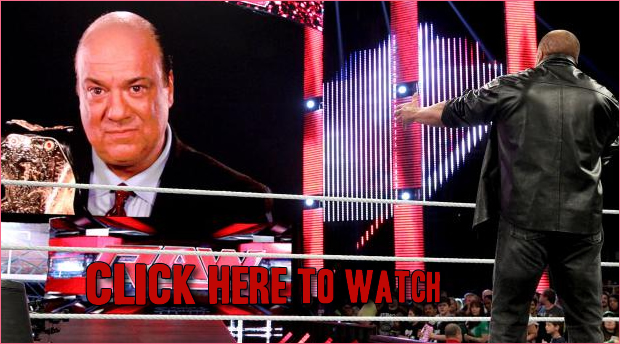 WE HERE AT THE HEYMAN HUSTLE HAVE ENSLAVED HIGHLY TRAINED
MONKEYS TO IGNORE THE FACT THEY ARE OVERWORKED AND UNDERPAID,
ALL IN THE NAME OF SCOURING THE WORLD WIDE WEB TO FIND THE FIFTEEN
MOST PROVOCATIVE STORIES ON THE INTERNET. ALL FOR YOU. NO ONE ELSE
BUT YOU. JUST YOU. AND ALL YOU NEED TO DO IS PICK WHICH PIC TO CLICK!