WWE Monday Night RAW from the O2 Arena in London, UK kicks off with a hot crowd, our very own Hustler De Tuti Hustlers Paul Heyman, and "The Game" Triple H, who delivered a devastating Pedigree to our boss!
We've seen our boss take his fair share of abuse, from HBK SHAWN MICHAELS' SWEET CHIN MUSIC AT WRESTLEMANIA to a HELLACIOUS BEATING FROM STEPHANIE McMAHON AT RAW 1000 … from RIC FLAIR'S FIGURE-4 LEGLOCK IN PHILADELPHIA to the amazing CONTRACT SIGNING BEATING FROM TRIPLE H BEFORE WRESTLEMANIA … from WRESTLING RYBACK AT MADISON SQUARE GARDEN to FIGHTING VINCE McMAHON ON MONDAY NIGHT RAW …Paul has been the recipient of some serious punishment since returning to WWE, but on this night in the UK, Paul got flattened by a Pedigree!
According to WWE.com:
LONDON — One week after the mauling perpetrated by Brock Lesnar on 3MB, Paul Heyman came calling in London on the beast's behalf, reiterating his challenge for a rubber match between Triple H and Lesnar in a steel cage at Extreme Rules. But it fell to Heyman to be the bearer of bad news as he read an email from The King of Kings deferring his response until next week thanks to a litany of injuries that apparently prevented the 13-time World Champion's travel across the Atlantic.
But they don't call Triple H "The Cerebral Assassin" for nothing, and the email was revealed as subterfuge when The Game himself stormed into the arena. With the mad scientist at his mercy yet again, The Game sealed his acceptance of Heyman's challenge with a Pedigree that brought the sold-out O2 Arena to its feet. It's official, now: War is declared, and in five weeks' time, the battle come down.
CLICK HERE FOR THE WWE BROCK LESNAR AND PAUL HEYMAN T-SHIRT PACKAGE!
CLICK HERE FOR THE SPECIAL WRESTLEMANIA "EXTREME" PAUL HEYMAN T-SHIRT!

Of course, we're HustleTweeting about Triple H vs Brock Lesnar … and about THE PEDIGREE on our very own Hustler De Tuti Hustlers Paul Heyman, and you're more than welcome to join the conversation by following us on twitter HERE or write us directly at hustleoncrave@gmail.com Hey, have you checked out the Hustle's Ultra High Quality You Tube Channel, with exclusive videos featuring OUR WORLD EXCLUSIVE WITH MIKE TYSON … BROCK LESNAR'S "HERE COMES THE PAIN" … ICE-T AND COCO's SEX SECRETS … TEEN SENSATION TAYLOR MOMSEN … UFC BAD BOY NICK DIAZ … THE WALKING RIOT MISSY HYATT if you're not subscribing, you're missing something … and by the ways cheapos, it's FREE! Yes, absolutely 100 percent FREE! What are you waiting for? Check it out HERE!
By the way, we're also old school social networkers, so check out our interactive skills on Facebook HERE and even on MySpace HERE. If you're on Friendster, GFY … and have a pleasant tomorrow!
CLICK ON THE PICS BELOW TO SEE THE ENTIRE OFFICIAL WWE PHOTO GALLERY
OF TRIPLE H HITTING A PEDIGREE ON PAUL HEYMAN IN LONDON!

CLICK BELOW TO WATCH THE VIDEO!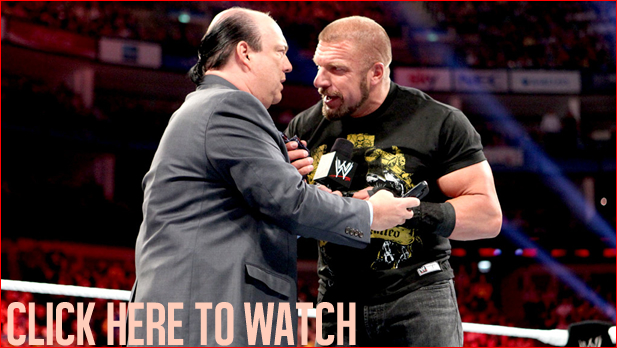 WE HERE AT THE HEYMAN HUSTLE HAVE ENSLAVED HIGHLY TRAINED
MONKEYS TO IGNORE THE FACT THEY ARE OVERWORKED AND UNDERPAID,
ALL IN THE NAME OF SCOURING THE WORLD WIDE WEB TO FIND THE FIFTEEN
MOST PROVOCATIVE STORIES ON THE INTERNET. ALL FOR YOU. NO ONE ELSE
BUT YOU. JUST YOU. AND ALL YOU NEED TO DO IS PICK WHICH PIC TO CLICK!