HUSTLE EXCLUSIVE!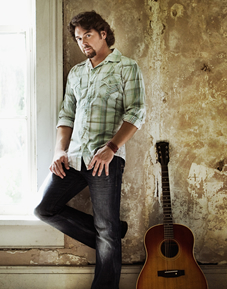 HUSTLE EXCLUSIVE!
Country Music is bracing itself for its next big breakout star, as The Davis Music Group has rolled out Jacob Lyda's debut music video, "I'm Doing Alright" on CMT.com. "I'm Doing Alright" was written by Lyda and Paul Overstreet, famous for such hits as "Love Can Build A Bridge" "She Thinks My Tractor's Sexy" and "Forever and Ever Amen." The music video was directed by THE HEYMAN HUSTLE's co-founder Mitchell K. Stuart, and co-stars former Miss Brazil super model Sasckya Porto.
Originally from a small town in the northeast corner of Alabama, Lyda's audience has rallied around his now-famous statement,"Music chose me. I didn't choose it."
Currently on a national radio tour promoting this debut release, Lyda is a singer/songwriter with a legion of fans that seems to be growing exponentially by the day.
Even Roughstock.com's influential Matt Bjorke is hooked. Giving Lyda four stars, Bjorke wrote "Jacob Lyda seems to have the kind of neo-traditionalist voice that just feels like it was meant to be played all over the radio dial."
Leslie Armstrong, yes thee Leslie Armstrong of Nashville Country Club stated that Lyda's vocals "could quite possibly be the new country generation's answer to helping fill the multi-award winning singer/songwriter's shoes in the future."
Want more?
CLICK HERE TO FOLLOW COUNTRY MUSIC'S NEWEST SENATION JACOB LYDA ON TWITTER!
CLICK HERE TO PURCHASE "I'M DOING ALRIGHT" ON I-TUNES!
We'll have the actual music video for "I'm Doing Alright" here tomorrow! Of course, in the meantime, we're HustleTweeting about Jacob Lyda's explosion onto the music scene, and you're more than welcome to join the conversation by following the Hustle on Twitter HERE or write to us at hustleoncrave@gmail.com
You can also subscribe (for FREE, cheapos, absolutely FREE) to our Ultra High Quality YouTube Channel HERE, and don't forget to check out our old school social networking skills by visiting us on Facebook HERE and even on MySpace HERE
CLICK ON THE PICS BELOW TO SEE THE ENTIRE EXCLUSIVE GALLERY
FEATURING THE ACTION BEHIND-THE-SCENES FROM JACOB LYDA'S
DEBUT VIDEO FOR DAVIS MUSIC GROUP's RELEASE OF "I'M DOING ALRIGHT!"

IT'S TIME FOR AN ALL NEW EDITION OF THE HOLLYWOOD CHARLIE
MEDIA WATCH, OUR DAILY TRAVEL ACROSS THE WORLD WIDE WEB.
OUR HIGHLY TRAINED MONKEYS HAVE PICKED OUT THE 15 WILDEST
STORIES FROM THE INTERNET FOR YOUR ASTUTE REVIEW. YOUR PART
IS VERY EASY. ALL YOU NEED TO DO IS PICK A PIC … AND CLICK!