The NBC Institution Returns To New York with A New Host and a Ton of A-List Cameo Appearances!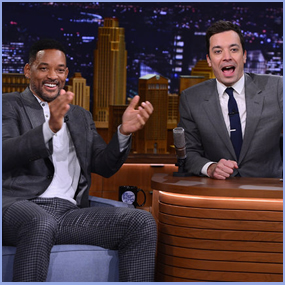 The NBC Institution Returns To New York with A New Host and a Ton of A-List Cameo Appearances!
"Welcome to The Tonight Show, the first to be broadcast from New York in over 40 years. I'm Jimmy Fallon and I'll be your host. … For now."
And so, Jimmy Fallon stepped into the spotlight as the new host of The Tonight Show, a rare and holy honor in television reserved for Steve Allen … Jack Paar … Johnny Carson … Jay Leno … Conan O'Brien … and Jay Leno (2nd term). Not since Carson moved the show out to LA has The Tonight Show been New York-based. And Jimmy Fallon didn't come alone.
U2 played a two-song rooftop concert from the top of Rockefeller Center while inside the studio, Fallon played host to a small army of amusing celebrities who made brief and mostly silent cameo appearances in an early routine. At the end of his monologue, he declared that some unnamed friend had bet him he'd never host The Tonight Show and now that friend owed him a hundred bucks. First came Tina Fey, who was followed by a list of celebs that included Mariah Carey … Robert DeNiro … Lady Gaga … Mike Tyson … Lindsay Lohan … Kim Kardashian … and finally, Stephen Colbert, who dumped $100 in pennies on Fallon's desk, then Fallon's head, then got in Fallon's face and hissed, "Welcome to 11:30, bitch!"
Will Smith was a great guest, and even Fallon will probably admit he was nervous as Hell in his debut. Fallon, an alum of SNL, is 39 years old, has a wife and a new baby. He pointed out his parents in the studio audience and also how the monologue works. He choked up a little when talking about the legacy of The Tonight Show. In a truly poignant moment, he admitted "I just want to do the best I can," he said. "And take care of the show for a while."
What did you think of Jimmy Fallon's first night as host of The Tonight Show? We're HustleTweeting about The Tonight Show, and you're more than welcome to join the conversation by following THE HEYMAN HUSTLE on Twitter HERE or write to us directly at hustleoncrave@gmail.com  Hey, have you checked out the Hustle's Ultra High Quality You Tube Channel, with exclusive videos featuring OUR WORLD EXCLUSIVE WITH MIKE TYSON … BROCK LESNAR'S "HERE COMES THE PAIN" … ICE-T AND COCO's SEX SECRETS … TEEN SENSATION TAYLOR MOMSEN … UFC BAD BOY NICK DIAZ … THE WALKING RIOT MISSY HYATT if you're not subscribing, you're missing something … and by the ways cheapos, it's FREE! Yes, absolutely 100 percent FREE! What are you waiting for? Check it out HERE!
By the way, we're also old school social networkers, so check out our interactive skills on Facebook HERE and even on MySpace HERE. If you're on Friendster, GFY … and have a pleasant tomorrow!
CLICK ON THE PICS BELOW FOR HIGHLIGHTS FROM JIMMY FALLON'S
FIRST NIGHT AS THE HOST OF "THE TONIGHT SHOW" ON NBC!


WE HERE AT THE HEYMAN HUSTLE HAVE ENSLAVED HIGHLY TRAINED
MONKEYS TO IGNORE THE FACT THEY ARE OVERWORKED AND UNDERPAID,
ALL IN THE NAME OF SCOURING THE WORLD WIDE WEB TO FIND THE FIFTEEN
MOST PROVOCATIVE STORIES ON THE INTERNET. ALL FOR YOU. NO ONE ELSE
BUT YOU.  JUST YOU. AND ALL YOU NEED TO DO  IS PICK WHICH PIC TO CLICK!