WWE Monday Night Raw saw a confrontation between The Doctor of Thugonomics and The #BestInTheWorld, but Punk doesn't fight for free!
Ryback is now the number one contender for the WWE Title, and that's because JOHN CENA STEPPED ASIDE DURING A MOST MEMORABLE CONTRACT SIGNING LAST WEEK ON RAW!
John Cena came out early on Raw to address the Cenation, and ended up being confronted by WWE Champion CM Punk and our own Hustler De Tuti Hustlers Paul Heyman. The theme of the night was "change,"and WWE.com provides us with the breaking news:
It's safe to say that the WWE Universe was surprised to say the least when John Cena stepped aside to allow Ryback to sign the No. 1 contender's contract last week on Raw. And this week, in the shadow of MetLife Stadium, the Cenation leader stepped into the ring not to expound upon his decision, but to give the WWE Universe a preview, in his own words, of what they can expect at Hell in a Cell.
And what, exactly, did the historic main event of Hell in a Cell hold in store? To put it simply: "change."
"Change is 6-foot 3," Cena said. "Change is 291 pounds, and when 'change' sets foot into this ring, all he can hear over and over again is 'FEED ME MORE!' "
Before Cena could continue, though, the riff of "Cult of Personality" rumbled through the loudspeakers and the WWE Champion strutted out, 337 days atop the mountain under his belt and looking thoroughly bemused at what he called Cena's "new role" of being "Ryback's personal cheerleader," not to mention the supposed greatness of the Super Bowl Champion New York Giants (it is truly hard to be a Second City Saint in the city).
And regarding change? "I've been WWE Champion for 337 days and counting, which means you haven't been champion for a lot longer than that," Punk said. "And that is change you can count on."
"Everybody knows when CM Punk makes a promise, he keeps it, and I promise I will walk out of Hell in a Cell still the WWE Champion."
Cena, however, had heard enough. Riled up by Punk's insults, Cena turned the subject of conversation to another recent hot topic: his injured elbow. He would not be interfering in Punk's scheduled title match at Hell in a Cell, but as for tonight, "Regarding yours truly, I am 100 percent medically cleared," the Cenation leader said, flexing his elbow for emphasis and inviting Punk into the ring for an impromptu rumble down the Turnpike.
And for a minute, it looked like Punk would acquiesce to Cena's request. But eventually, the warning shrieks of Paul Heyman won out and the champion strode back to the locker room, a smile on his face and title held high.
Of course, we're HustleTweeting about CM Punk and Paul Heyman's confrontation with John Cena, and you're more than welcome to join the conversation by following THE HEYMAN HUSTLE on Twitter HERE or write to us directly at hustleoncrave@gmail.com Hey, have you checked out the Hustle's Ultra High Quality You Tube Channel, with exclusive videos featuring OUR WORLD EXCLUSIVE WITH MIKE TYSON … BROCK LESNAR'S "HERE COMES THE PAIN" … ICE-T AND COCO's SEX SECRETS … TEEN SENSATION TAYLOR MOMSEN … UFC BAD BOY NICK DIAZ … THE WALKING RIOT MISSY HYATT if you're not subscribing, you're missing something … and by the ways cheapos, it's FREE! Yes, absolutely 100 percent FREE! What are you waiting for? Check it out HERE!
By the way, we're also old school social networkers, so check out our interactive skills on Facebook HERE and even on MySpace HERE. If you're on Friendster, GFY … and have a pleasant tomorrow!
CLICK ON THE PICS BELOW TO SEE THE ENTIRE OFFICIAL WWE GALLERY
FEATURING CM PUNK, PAUL HEYMAN AND JOHN CENA!

CHECK OUT CM PUNK'S CONFRONTATION WITH JOHN CENA FROM RAW!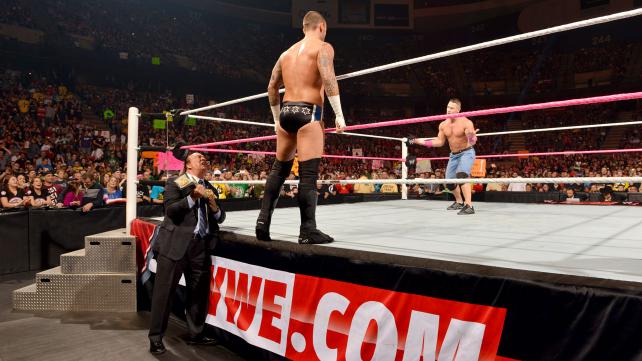 WE HERE AT THE HEYMAN HUSTLE HAVE ENSLAVED HIGHLY TRAINED
MONKEYS TO IGNORE THE FACT THEY ARE OVERWORKED AND UNDERPAID,
ALL IN THE NAME OF SCOURING THE WORLD WIDE WEB TO FIND THE FIFTEEN
MOST PROVOCATIVE STORIES ON THE INTERNET. ALL FOR YOU. NO ONE ELSE
BUT YOU. JUST YOU. AND ALL YOU NEED TO DO IS PICK WHICH PIC TO CLICK!