The Fallout From UFC 167 Continues …
Jony Hendricks isn't backing off UFC Undisputed Middleweight Champion Georges St-Pierre. Following GSP's highly controversial split decision victory over Hendricks in the main event of UFC 167, the MMA community came out critical of GSP being given the nod. Joe Rogan has been vocal about it on his podcast and on radio interviews, but no one has been more vocal about it than the promoter of the event itself, UFC President Dana White.

Dana has been trying to put together the rematch, and Hendricks is getting impatient. The man who took the fight to GSP in brutal, violent terms during their clash in Las Vegas told Ron Kruck of AXS TV's Inside MMA that GSP needing some time away to deal with life issues is not an excuse he's ready to accept.

"Dude I've got three kids. You know what I'm saying? Talk about sleep? Are you kidding me?" Hendricks said. "Everybody's got problems in life. That's the way that it is. If you can't handle the stress of being champion, give it up … We chose to get into that Octagon. We chose not to sleep. I don't know how many times I went to bed at 5, 6 o'clock in the morning, waking up at 10, running four miles because I wanted to beat GSP that bad. Dude, who cares? I chose that life. Tell yourself whatever you need to. Just get back in that Octagon with me, and I can't wait for the rematch."

CLICK HERE TO PURCHASE YOUR VERY OWN OFFICIAL JOHNY HENDRICKS UFC T-SHIRT!

CLICK HERE TO PURCHASE THE OFFICIAL HISTORIC GSP UFC 167 WALKOUT T-SHIRT!

Of course, we're HustleTweeting about GSP vs Johny Hendricks, and you're more than welcome to join us by following THE HEYMAN HUSTLE and telling us what YOU think RIGHT F'N HERE! We got the whole social media thing covered, so check out the Hustle's Ultra High Quality You Tube Channel, with exclusive videos featuring OUR WORLD EXCLUSIVE WITH MIKE TYSON … BROCK LESNAR'S "HERE COMES THE PAIN" … ICE-T AND COCO's SEX SECRETS … TEEN SENSATION TAYLOR MOMSEN … UFC BAD BOY NICK DIAZ … THE WALKING RIOT MISSY HYATT if you're not subscribing, you're missing something … and by the ways cheapos, it's FREE! Yes, absolutely 100 percent FREE! What are you waiting for? Check it out HERE!
JOHNY HENDRICKS BLASTS GSP ON "INSIDE MMA"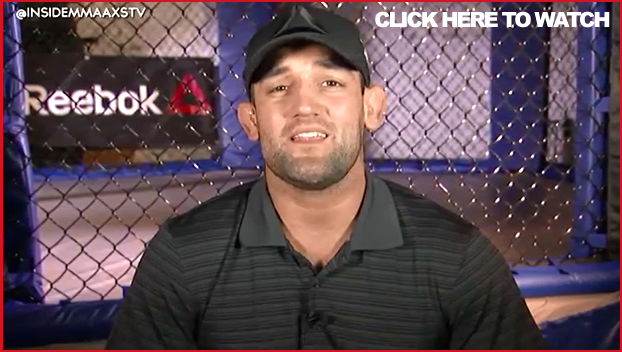 WE HERE AT THE HEYMAN HUSTLE HAVE ENSLAVED HIGHLY TRAINED
MONKEYS TO IGNORE THE FACT THEY ARE OVERWORKED AND UNDERPAID,
ALL IN THE NAME OF SCOURING THE WORLD WIDE WEB TO FIND THE FIFTEEN
MOST PROVOCATIVE STORIES ON THE INTERNET. ALL FOR YOU. NO ONE ELSE
BUT YOU. JUST YOU. AND ALL YOU NEED TO DO IS PICK WHICH PIC TO CLICK!