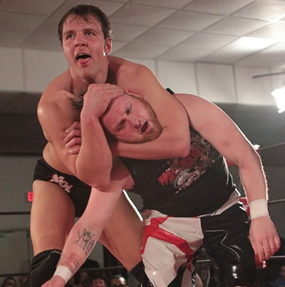 HUSTLE EXCLUSIVE!

I booked CM Punk into Ring Of Honor back in 2002 without even seeing him wrestle. There's only one other time that has happened and it was with Jon Moxley, WWE Talent Relations Executive John Lauraintis' latest acquisition.
Moxley started in Dragon Gate USA in 2009 and we quickly brought him to EVOLVE. In spectacular style, he finished his DGUSA commitments earlier this month, and now Moxley will have his final booking with EVOLVE this Tuesday, April 19th, at EVOLVE 7. The event will take place at BB King Blues Club & Grill, located in the heart of New York City's Times Square. It will be Moxley's final show before reporting to work for WWE, and the event will be broadcast as a live iPPV at www.WWNLive.com
With Punk, I simply saw a ring entrance on a VHS tape. He showed such poise, confidence and charisma that his Straight Edge character just burst through the screen. I didn't care if he could wrestle. He was marketable, unique and had "it."
Fast forward to 2009.
Jon Moxley was gaining a buzz on the indy circuit. I had a hand in booking Full Impact Pro's 2009 Jeff Peterson Memorial Cup. We had just started DGUSA and had a couple of shows under our belt. We decided to bring Moxley down to Florida for the Peterson Cup to see what he was all about.
Before the show, we pulled him into a side room to shoot a promo for the DVD. Really, I just wanted to see what he could do. I gave him a couple of bullet points and told him to make it his own. Moxley then rattled off an amazing promo unlike anything I've ever seen. As soon as he finished I said "can you make it up to Philly next week for DGUSA?"
He quickly replied "yes," and jumped at the opportunity. I didn't need to see him wrestle. He was a star in the making and I had to write him into the show as soon as possible.
Moxley turned out to be instrumental to both DGUSA and EVOLVE. In DGUSA, he became our first homegrown American star and bridged the gap between the Japanese stars and American independent wrestlers. Moxley paved the way for DGUSA to become one unified roster. He deserves that credit. He delivered in a very big way during our feud of the year, which saw him go against Jimmy Jacobs in 2010. He tore the house down with BRYAN DANIELSON (WWE's DANIEL BRYAN) at "Way Of The Ronin" and most recently he went toe-to-toe with Naruki Doi at "Open The Southern Gate."
Now on Tuesday night at "EVOLVE 7: ARIES VS MOXLEY" we have one final night to see Moxley during this stage of his career. He will be working with Austin Aries, one of the most gifted performers out there in any promotion. Mox knows this is his last hurrah. He is determined to have the match of his life and go out on a high note.
Whether this Tuesday is your first look at Moxley or a "thank you and farewell" for all you've seen him do on the independent circuit, I'm very confident Moxley and Aries will produce something we will all remember.
============
Gabe Sapolsky is the co-founder for EVOLVE Wrestling. He would very much appreciate it if you would watch Jon Moxley talking about the upcoming match against Austin Aries HERE

EVOLVE 7: ARIES VS MOXLEY" takes place on April 19th at BB King Blues Club & Grill in Times Square, Manhattan, NY. Belltime is 8pm. Doors open at 6pm so you can get dinner & drinks before the show at BB King's. www.EVOLVEwrestling.com or 267-519-9744 for more info. The show will also air live on iPPV exclusively through www.WWNLive.com
============
CLICK ON THE PHOTOS BELOW TO SEE GEORGE TAHINOS' EXCLUSIVE PHOTO
GALLERY FEATURING JON MOXLEY IN ACTION AGAINST ARIK CANNON!


IT'S TIME FOR AN ALL NEW EDITION OF THE HOLLYWOOD CHARLIE
MEDIA WATCH, OUR DAILY TRAVEL ACROSS THE WORLD WIDE WEB.
OUR HIGHLY TRAINED MONKEYS HAVE PICKED OUT THE 15 WILDEST
STORIES FROM THE INTERNET FOR YOUR ASTUTE REVIEW. YOUR PART
IS VERY EASY. ALL YOU NEED TO DO IS PICK A PIC … AND CLICK!