"Jonah Hex" is the latest comic-book-becomes-a-movie, as Josh Brolin plays a scarred up bad ass with some wild magical powers that lead him down the path of vengeance, and Megan Fox plays a whore with some … um … hold on.
Megan Fox plays a whore.

This movie deserves an Academy Award!
YOU CAN SIT THERE AND WONDER WHAT MEGAN FOX DOES IN
THIS MOVIE TRAILER, OR YOU CAN CLICK BELOW AND FIND OUT!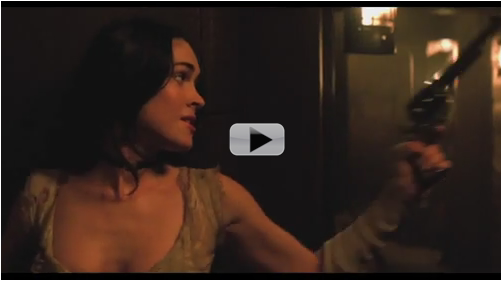 CHECK OUT THE POSTERS BELOW
---
THE HEYMAN HUSTLE IS PROUD AND PLEASED TO PRESENT
THE HOLLYWOOD CHARLIE MEDIA WATCH, FEATURING THE
FIFTEEN BEST STORIES OF THE DAY FROM THE WORLD WIDE
WEB. ALL HERE, CONVENIENTLY CHOSEN FOR YOUR REVIEW
BY OUR HIGHLY REGARDED STAFF OF TRAINED MONKEYS.
YOUR PART, WE DARE SAY, IS EASY. JUST PICK A PIC AND CLICK!